Before you complain about the awesomeness that is this post
(Jacob)
, click back
here
and read the comments. You'll find that it was
specifically
requested. Yes, it took me five months to get around to it. What's it to ya?
(It was also specifically requested that the rest of you chime in with a description of your recipe organization system. I have no treats, no points, no incentives to reward you for this time around. I apologize for this, but still have high hopes that you will share as well, if only out of the goodness of your hearts.)
Anyway, shall we get on with it?
Here are my three ring binders of recipe joy: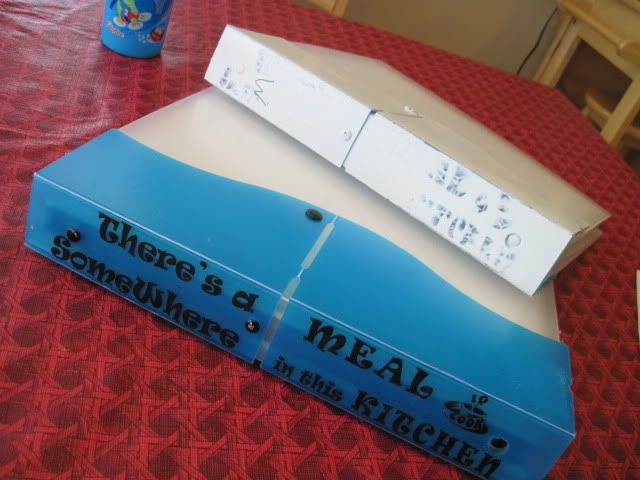 I used to have only one, but a year or so ago, it started getting unwieldy, and so I separated the main dish section from all the other sections. Pay no attention to the words on the spine. I got the binders at a steal of a deal, and I love them, because the back of the binder bends in such a way so that the binder can stand itself up on the counter, which makes for easier reference while cooking. You'll notice that I spray painted one of them, and wrote the letter "M" on it. That's because I got tired of trying to remember which was the binder for main dishes and which was the binder for everything else. As a solution, I'll be the first to admit that it's not all that aesthetic, but it is certainly functional and I'm all about function.
Here are my sections: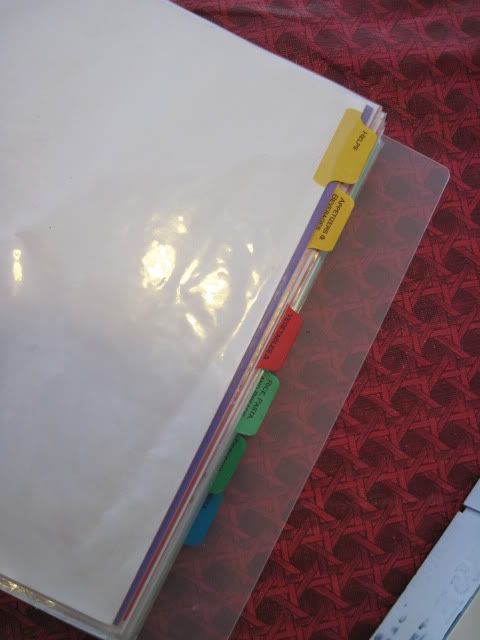 Helps, Appetizers & Beverages, Vegetables and Salads, Rice Pasta & Breads, Desserts, Index
Here are some pages from the inside: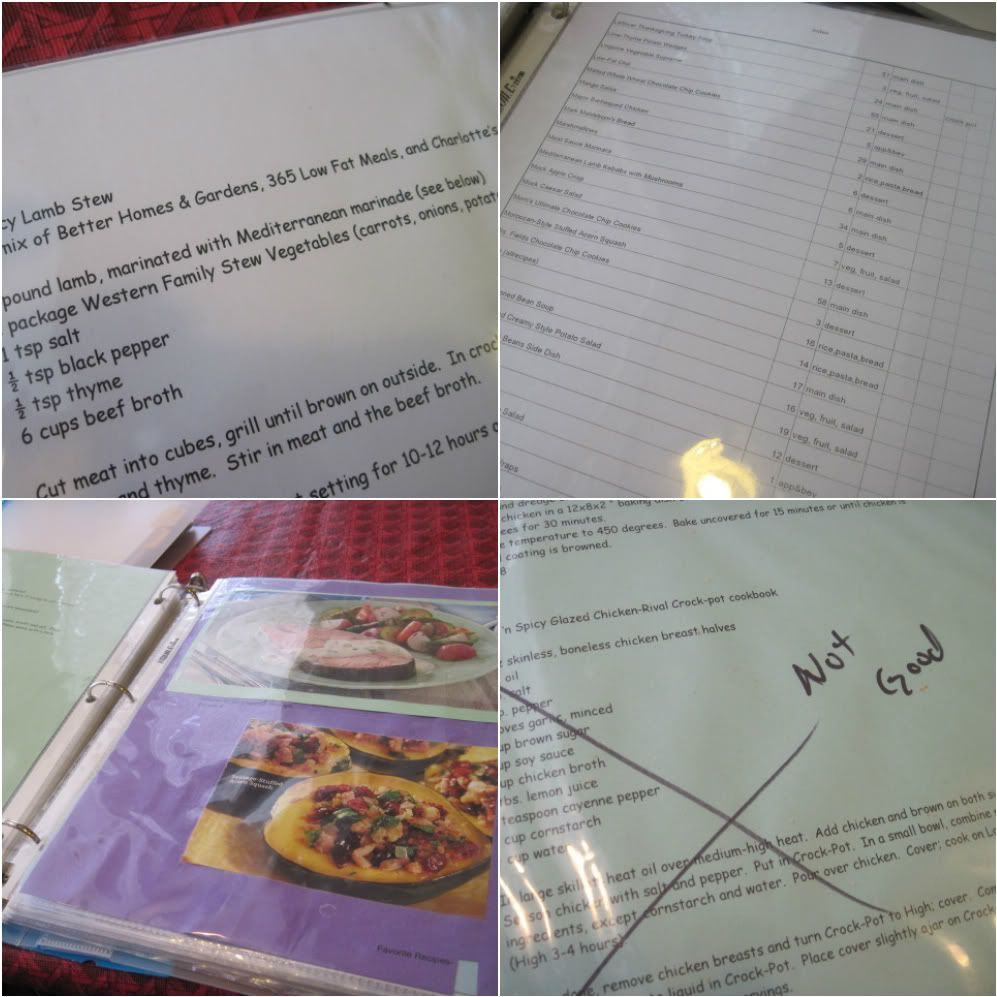 The way it all works is pretty simple:
About twice a month (sometimes more often) I'll try a new recipe. If I like it, and Eric likes it (we don't care at this point whether Heather likes it or not), then it goes into the three-ring binder of recipe joy. I have five different Word files, named "Appetizers and Beverages Recipes", "Main Dish Recipes", . . . you get the idea. Each section is numbered from page one to page whatever. (I used to number the whole book from beginning to end, but that got to be a real headache, since anytime I entered a new recipe it would throw the numbers off for everything that came after it.)
I keep the index in Excel. I have one excel file, with sheets for all of the individual sections as well as a sheet for the whole index. The top right picture above is a shot of the Index. The first column is the name of the recipe, the second column is the page number, and the third column is the name of the section. If the recipe lends itself well to slow cookery, I mark that in the fourth column, but that's a new development, so I don't have a whole lot of those marked.
So, for example, if you'll look at the index and you have really good eyes, you'll see that the twelfth entry in the index is "Mock Apple Crisp", that the recipe is found on page 5 of the dessert section. Get it?
My parents have given me a gift subscription to
Taste of Home
(formerly
Quick Cooking
) for several years now. I love it. Often, if I get a winner from that or any other magazine, I'll cut the picture out, and tape that by the recipe as well. That's what's going on with the bottom left picture.
Sometimes,
I find that my tastes will change, and a recipe that I used to deem "binder worthy" is no longer so. We see the result of that in the bottom right picture. Rather than take the recipe out of my file and mess up all my page numbers, I just take a sharpie and brand it with the seal of disapproval. Nary a recipe has made it to our table once it has received the dreaded "not good" label.
The binder(s) make(s) up the crux of my meal planning. I love the ultimate convenience of having everything in one concise area, rather than having to hunt through different cookbooks, 3x5 cards, magazines, slips of paper, and websites. Best of all, when I'm stuck for an idea as to what I should make for dinner and it's 4:30 (or 5:30) p.m., I have a ready-made book full of tried and true options, many of which can be made with ingredients that I keep in my pantry.
I would love to end this post with some pithy statement, but I'm coming up empty. So, here are a few more pictures of the inside.
(Heidi, Eric has already pointed out the fact that I've used the dreaded Comic Sans font. My only defense for that indefensible mistake is that I put the binder together long before I was closely acquainted with any graphic designer, and I'm too far down the road now to make any big font changes. Eric knows that there's no sense trying to change my ways, and somehow I think Phil would overlook it. Right?)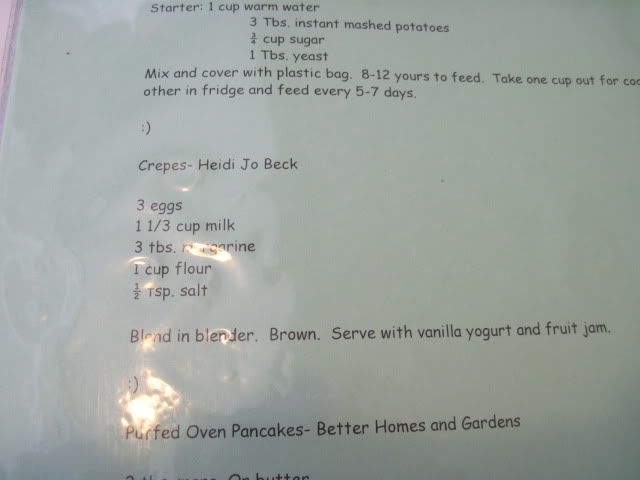 Heidi is a master crepe maker. I added the yogurt and fruit jam suggestion all by myself. Impressive, I know.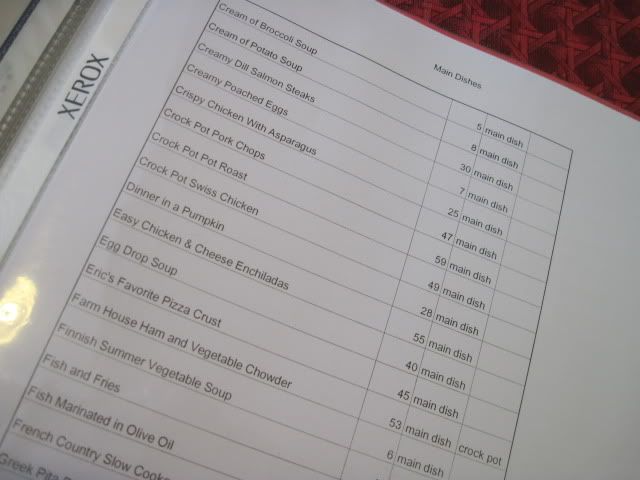 You'll notice the "Creamy Poached Eggs" Entry. Breakfast foods have been an iffy area for me. Sometimes I lump them with the breads, sometimes I put them with the appetizers and beverages, and sometimes I put them with the main dishes (since they are the main dish for breakfast, after all). It's all a gamble, which makes it kind of hard to find them at times. That's why I have my trusty index.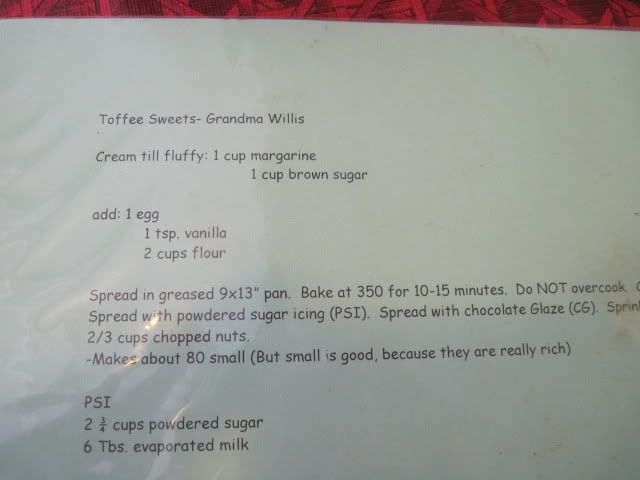 There's a whole story about this recipe. My grandma used to make them and then my mom used to make them. And then, no one made them for a long time. About seven years ago I brought them to a family reunion, and my brother ate one and remarked that it had been so long since he'd had one that he convinced himself that he had just imagined them from his childhood.
Since then, I think of them as "Robert's Imaginary Bars".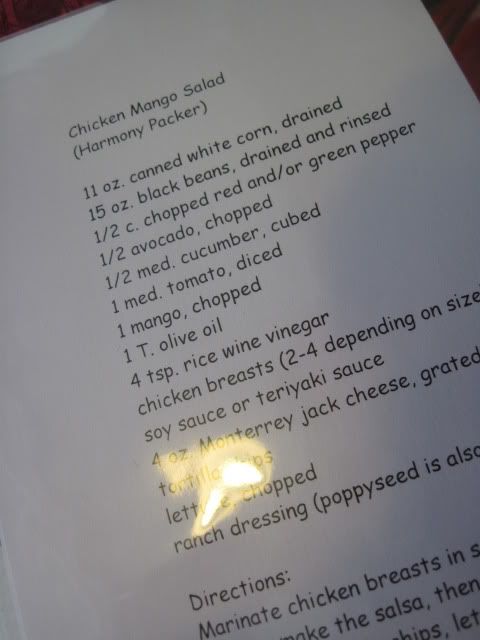 Harmony, I've shared this recipe four times already since you shared it with me. Everyone loves it.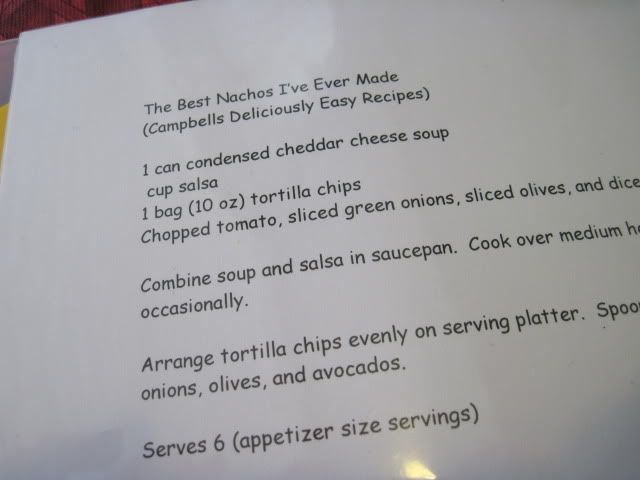 And there you have it.
So how about you? Do you have a recipe of joy system? Do you have another system? Do you feel like sharing?
Please?
p.s. If any of you want any of these recipes, or even just want me to send you the word file(s) of all of them, just let me know (and give me your e-mail address), and I'm happy to do it.