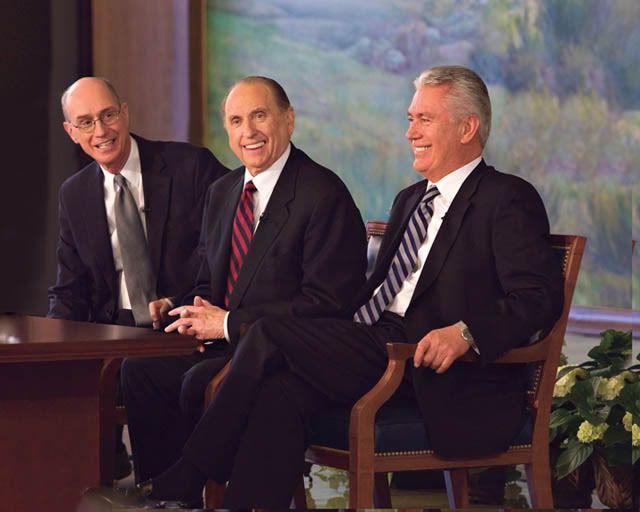 L-R, Henry B. Eyring, Thomas S. Monson, Dieter F. Uchtdorf
This picture was taken a few years ago at the press conference in which it was announced that Thomas S. Monson would succeed Gordon B. Hinckley as the President of the Church of Jesus Christ of Latter-day Saints, and that Elders Henry B. Eyring and Dieter F. Uchtdorf would made up the rest of the First Presidency of the church.
I love how happy they look. I love how full of hope they look, and how united they appear. Eric likes the picture because he thinks President Monson has kind of a dazed look about him, like a "what in the world am I getting into now" kind of thing, while Elders Eyring and Uchtdorf are looking absolutely relieved that the weight of the whole church isn't resting on
their
shoulders.
Either way you look at it (and I can certainly see some of what Eric sees), it's a fun shot, and one of my favorites.
(I also like the striped ties that Pres. Monson and Pres. Uchtdorf are wearing. Not because I'm a striped tie kind of girl, but because they remind me of Joseph Nelson, my (now deceased) mission president. He was always after the young elders to wear conservative ties, and wide diagonal stripes like this one were generally a top pick.)