You knew I couldn't go all the way to San Francisco and not take lion pictures, didn't you?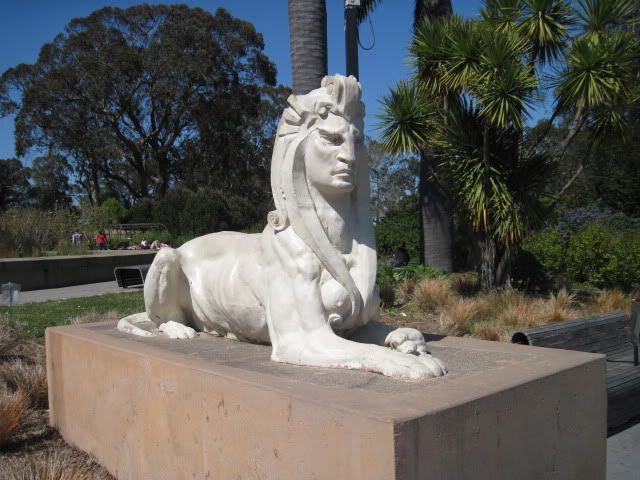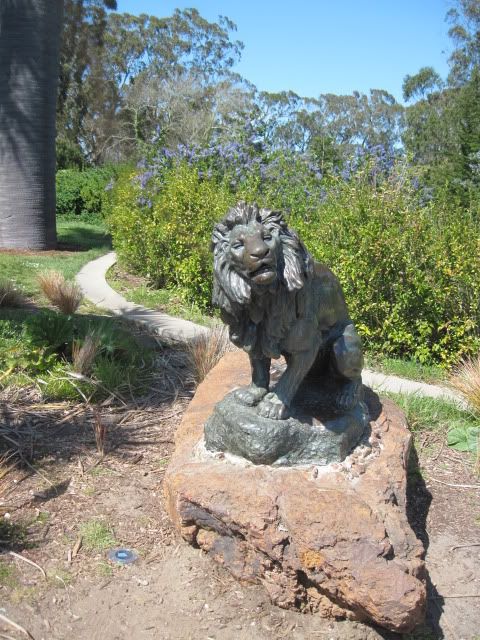 These are in Golden Gate Park. I find the white one terribly intriguing, but I'm not sure why exactly.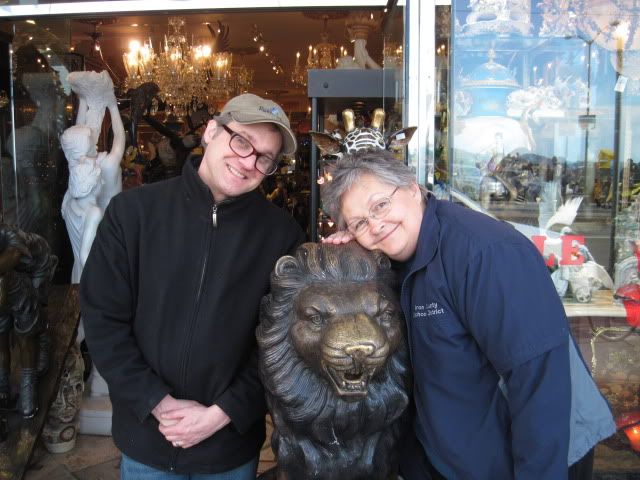 Mom and Eric with Smiley Pete.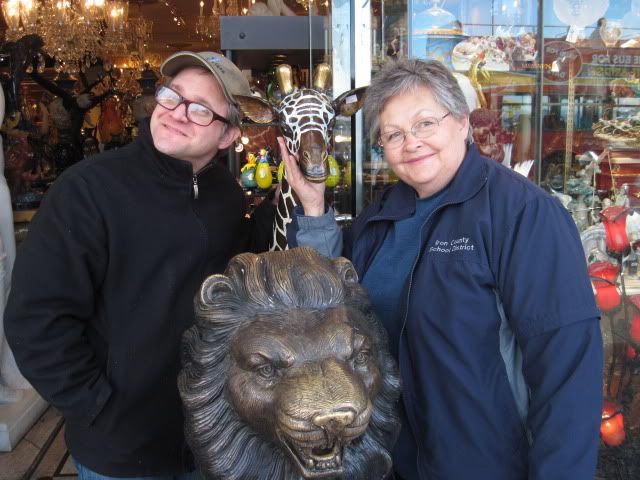 Smiley Pete has a Giraffe friend.
For these, Eric and I were (obviously) trying to imitate the stoic expression on our friend.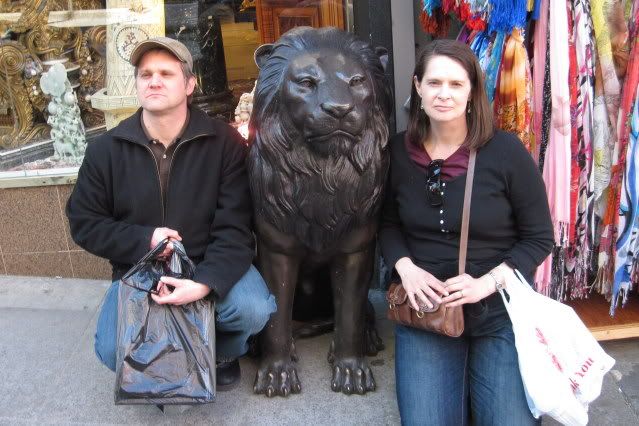 I did alright for a bit . . .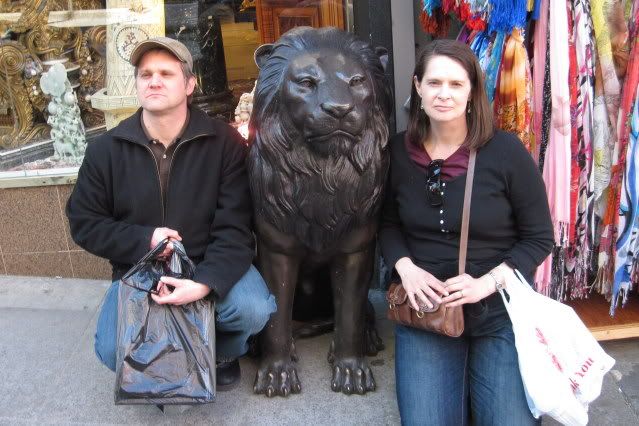 . . . but then I cracked.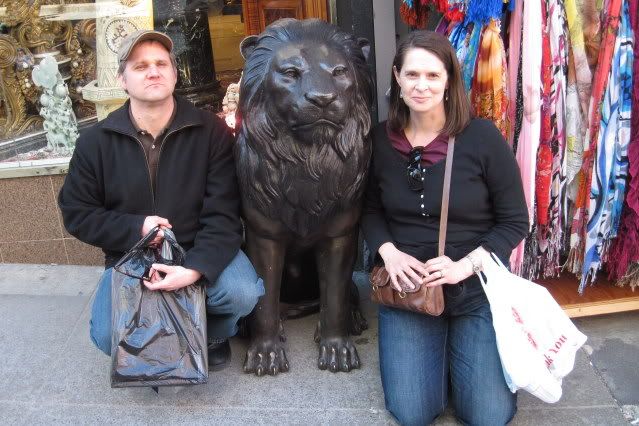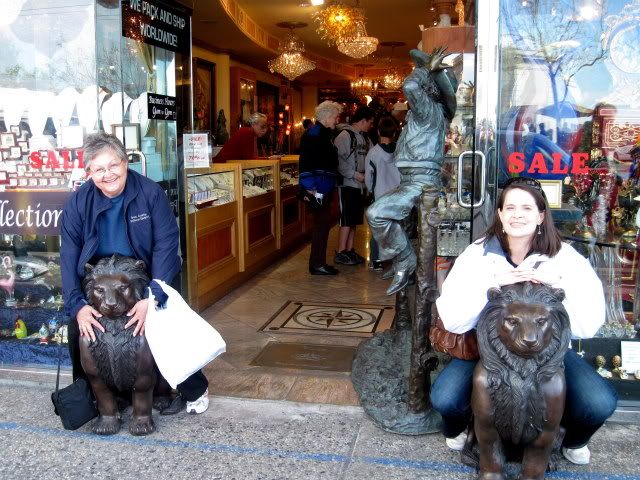 A washed out Charlotte and Barbara with a pair of bearded lions.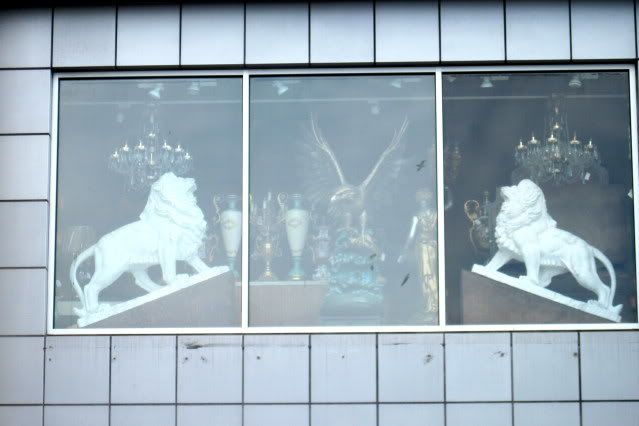 Lions in a window at Fisherman's Wharf.
Unfortunately, my favorite pair of stone lions from the trip went un-photographed. It was Sunday afternoon, and I was headed home from church. Mom was in meetings, and Eric was feeling a little under the weather, so I was on my own. On a whim, I stopped off about mid-way back to our hotel and decided to take a little walk up to Alamo Square in hopes of seeing the famous "painted ladies" (and I did--pictures to come). On the way, I passed a home with two small well-worn and probably well-loved lions. I knew they would be a brilliant addition to my collection, and reached for my camera. Just as my fingers closed around the strap though, the owner of the house came out and started puttering around in front of his house. Now, I should have just taken the picture anyway. I mean, what was going to happen? I was obviously a tourist, and I imagine San Franciscans are quite used to obnoxious camera-toting visitors taking random pictures of their city and even their homes. What would he have done to me? Nothing.
But, I chickened out. I casually, inconspicuously walked on by, all the while planning to try again on my way back to the bus stop. Unfortunately, I forgot about it and took a different route back. Oh well.
We're just about halfway through all my San Francisco shots at this point. In other words, there are
plenty
more. Isn't that just the most thrilling thing you've ever read? I know!