So, a week ago Saturday, yours truly made the pizza of all pizzas. We had some extra broccoli (like
a lot
of extra broccoli), and I had been going through my old magazines, taking out recipes that I wanted to try, and found this one for Garden Fresh Pizza from Better Homes and Gardens. (I haven't subscribed to BH&G for over a year, so that should tell you how often I go through old magazines.)
I decided to make it for our Friday evening meal. Then, I read the recipe more closely and found that you have to let the dough sit for (you're not going to believe this)
12 to 24 hours
. At that point I toyed with the idea of scrapping the whole thing, but I persevered and started the dough, and we had cereal for supper on Friday with the hopes of a real treat on Saturday instead.
I'm so glad I did.
All three of us agree that this pizza is delicious, and that's saying something, since Eric's not a big one for food that is loaded with as much goodness as is loaded on this pizza.
The thing is, this particular recipe manages to cut out excessive fat, salt, and sugar without sacrificing taste. It
uses some fun tricks to make the pizza flavorful and satisfying without adding a lot of calories. For example, it uses feta cheese, which isn't low-fat by any means, but has enough of a bite to it that you don't need to smother your pizza with it to feel like you're getting enough. Same story with the sausage. Using chorizo sausage (a word to the wise--frying this up will make your home smell eye-wateringly spicy for a good six hours) gives a whole lot of flavor and punch, and you don't need (and won't want) to use very much because they it is so very very spicy.
I don't want to get into trouble with BH&G, so rather than printing the copyrighted recipe, I'll just provide the link to the goodness
here
.
A few modifications we made:
I used 1 cup white flour and 1 1/2 cups white wheat flour.
I used regular tomato sauce rather than the no-salt variety.
I used arugula instead of radicchio, as radicchio is pretty difficult to find around these parts.
We sprinkled truffle salt on top--delicious addition!
The next day, we chopped up some leftover rotisserie chicken and put that on top too. It was good, but I think I like it better without.
And now, just to brag a bit, here's a picture of what the pizza is supposed to look like . . .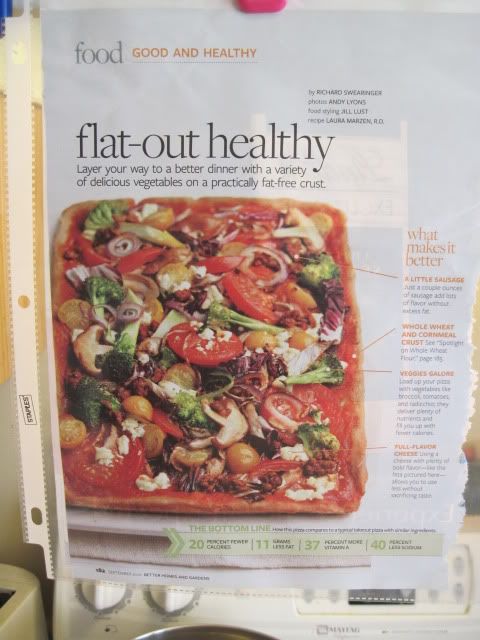 And here's what my version looked like: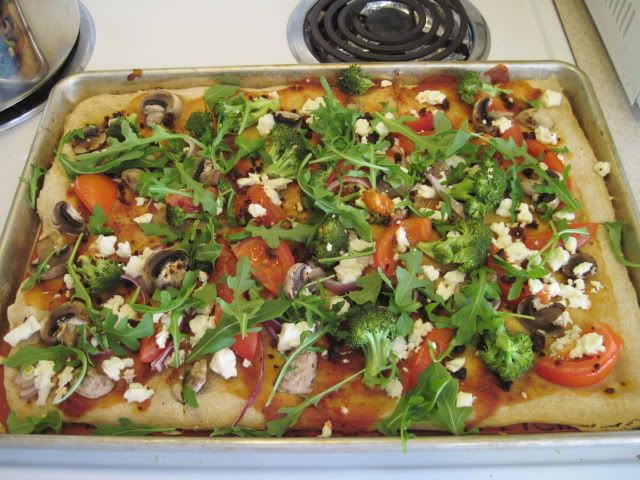 Obviously I'm proud of my achievement.
Probably overly proud, all things considered.
(But really, what else is new?)