A few months ago, Eric (who lives in dread of the not-even-planned-for-yet day that we move) told me of some neighbors that we had who had recently purchased a clavinova, and remarked that if we were to sell our piano and replace it with a (much lighter) clavinova, that would probably be a good thing, particularly when it came time for us to move.
With the thought
"Does he even know me?"
racing around in my head, I vehemently replied:
"We will NOT be getting rid of this piano.
Never ever ever speak of this again."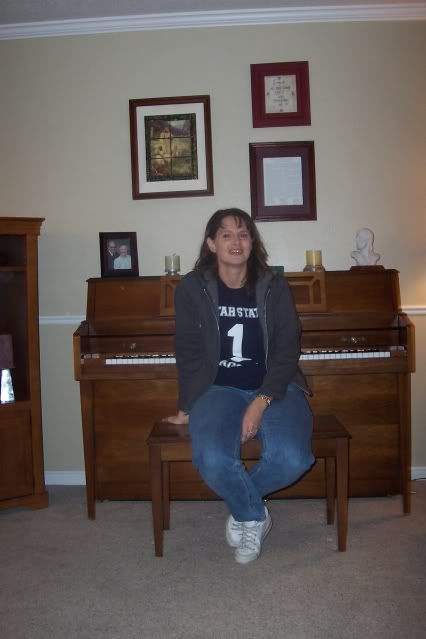 Me and my new piano, October 2005 (My grandparents are in the framed picture to my right.)
Here's why:
Note: if you've been receiving the world famousCharlotte Quarterly Letter for six years or more, you've already heard this story.
Pretty much from the time I moved out of my parents home, I had wanted to purchase a piano. Now, I'm no concert pianist. I'm no pianist at all, frankly. But, I grew up with a piano in my home, I've always loved to sing, I've found that it is
much easier
to learn music if you have a piano, and I wanted my child(ren) to grow up with a piano in the home as well.
So, the years went by, I moved from apartment to apartment, putting my piano dreams on hold until I felt more settled and had saved up enough money for my beloved instrument.
Well, in the fall of 2005, the stars aligned, and I determined that I was done being a home renter and ready to be a home owner. I took a free course on
home buyer education
held in the basement of a local bank, went looking, found a town home that I adored, got a second opinion, made an offer, accepted a counter offer, and found myself the proud owner of three bedrooms and a carport.
As it turned out, about a week after I had agreed to purchase the town home, I determined that the time was right to get a piano as well. So I got looking. I quickly found a used gem of a Yamaha that was in good shape, for a good price, and so I decided to sell some shares of my investments and purchase it.
Later that day, I was looking through some of my finances, trying to determine exactly what I should sell to pay for the piano. I'd figured on juggling the purchase between two different accounts because of some other obligations and plans that I had. However, to my surprise, I pulled out the statement from a mutual fund I had been planning to liquidate only to find that there was an extra amount (enough for the piano with some to spare) there that I hadn't taken into account. To call it a glorious surprise would be an absolute understatement. I didn't think too much about it at the time, except to wonder (with some concern) how I could have forgotten about that extra money.
A few days passed, and I went along the business of preparing for my move, etc. Then, one day while I was on my morning walk, I got mulling over the mysterious money, and I realized from where it had come.
When I was in my early teens, my maternal grandparents (who were quite talented at managing money, and very generous to boot) gave mutual fund shares to all their grandchildren. As I got older, the fund they had chosen stopped performing as well as it had previously, and so (with their blessing) I sold it, re-invested it in another fund along with some of my own earnings, and kind of forgot about it. That is the extra money that I had "rediscovered".
So, basically (and this is my absolute favorite part of the story), My grandparents, who paid for half of my piano lessons and dance lessons and voice lessons when I was a little girl, were able to posthumously provide me a piano of my very own as well. A piano that I've used to teach voice lessons to other young men and women, a piano that I now use to bond with my daughter. A piano that I hope will bless my family for years (and perhaps generations) to come.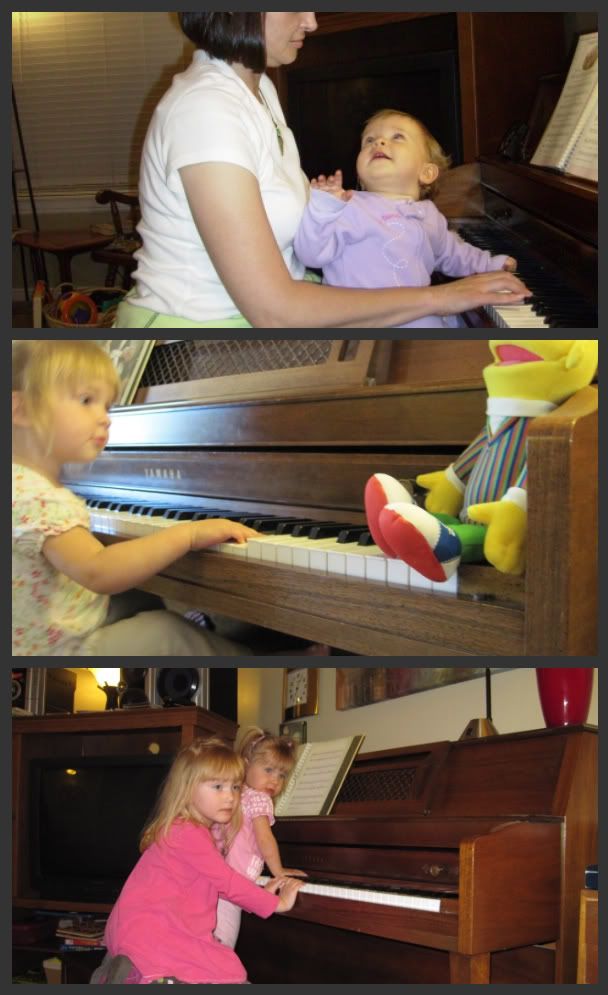 (The fact that every time I get it tuned the piano tuner raves and raves about what a nice little instrument it is and how it always tunes up perfectly and easily doesn't hurt either, truth be told.)