So, if you read the comments to my post of one million pictures of the arrow statue, you'll find that my mom felt that I left some important information out. Specifically, she didn't feel that I provided enough details as to what the statue means, or why I went looking for it.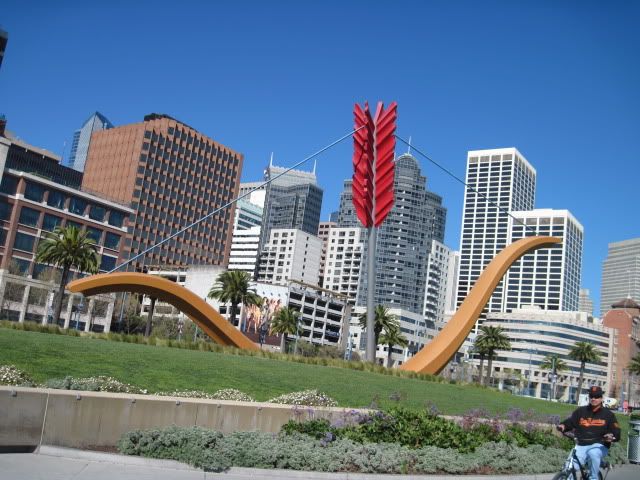 See that Giants fan in the Corner? It was game day.
So . . .
The sculpture, named "Cupid's Span" is supposed to be Cupid's bow and arrow, and points to the place where Tony Bennett "left his heart" in San Francisco. It's huge, and impressive, and fits really well with the San Francisco skyline, in my opinion.
Why did I go looking for it? Because I thought it looked cool. Because I thought that, with the exception of Alcatraz, I'd seen everything worth seeing in San Francisco already, and I couldn't stand the thought of this landmark escaping my notice.
As it turned out, the sculpture was only about a 15 minute walk from our hotel, but I took the subway there because those were the directions that the helpful ticket agent at the Sony Metreon Movie Theatre gave me. I'm kind of glad I did, because it made for a nice view, as we started coming up out of the underground tunnel and I looked out the side window to see this huge statue appearing just to my left. Pretty rad. (Yup, I just said
rad
. Sometimes I like to go back to my 80s roots. Not that I was cool enough or confident enough to use cool slang like that back then, but now? . . . well, anyway.)
Where were Eric and my mom in all of this, you ask? Well, my mom was attending convention meetings. Eric was in bed. We had discussed it the evening before, and he determined that he'd rather spend his morning lounging around sleeping than fighting the morning rush hour traffic in a brave attempt to find this new landmark. He and I have different ideas as to what makes an ideal vacation.
Obviously.
As long as we're talking about cool sculptures, here's another one:
"Snafu" (a/k/a "the french fry sculpture")
For those of you with fond USU memories, here's a little visual nostalgia for you. For the rest of you, here's a random picture of two non-random girls on the french fry sculpture on the campus of Utah State University. I'm told that this past winter, some students created a hamburger snow sculpture, complete with appropriate coloring, and set it up right next to the french fries. I would have liked to seen that.
And that's what I've got for today. Happy weekend.