Eariler this year, my brother Jacob admitted that he had a man-crush on Jimmer Fredette.


I think it's safe to say that I have a girl-crush on Courtney Crozier.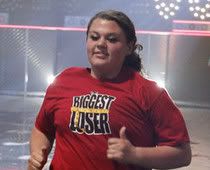 I've been wanting to brag about this (as silly as it is) for several weeks now, but I've felt that I needed to keep quiet about it, so as not to ruin anything for Biggest Loser fans. I'm safe now though.
Remember how I've been working out doing a Crossfit Class twice a week? Well, the gym that hosts the class is none other than the
Rulon Gardner Elite Training Center
, owned and operated by Rulon Gardner and Justin I-don't-know-his-last-name. I've never seen Rulon there, but when you show up twice a week for one hour each time, you don't tend to see all that many people there, you know?
So anyway, sometime in probably February or early March, Candace and I were walking back to the locker room to hang up our jackets. As we walked, we passed by a group of girls, and I noticed that one of them looked very familiar. It took me a second, but by the time we were in the locker room, I realized who it was, and I told Candace that we had just passed Courtney from
The Biggest Loser
. I tend to be a little shy in situations like this, but Candace was as bold as brass. We marched right back out there, where Candace proceeded to pick Courtney's brain about calorie counts, meal plans, and life on the ranch. I sat there, tongue-tied.
(Courtney looked
amazing.)
In the conversation, Courtney mentioned that she had come to Logan at Justin's invitation, to work out with him at the gym for a week. When asked about the ranch, she basically told the story that we all watched on NBC this week, how her body had gone into starvation mode, holding on to every calorie that she took in. She told us that this was the reason that she was home now, that her last week on the ranch she consumed 700 calories per day (unbelievable), exercised as hard as she ever had, but only lost one pound. Candace told her that she looked great, and I nodded enthusiastically.
(I think I might have even been able to squeak out a "Yeah, you sure do.")
We mentioned that we were big Courtney fans, and that we wished her all the best.
She thanked us sincerely, looking us in the eye with that sparkly confident expression that I've grown accustomed to watching every week. Then she said, "I hope you don't feel bad for me that I'm home. Seriously,
I feel like I won
."
That Courtney is a class act.