We arrived in San Francisco in the early afternoon. After a delicious lupper (or sunch) at the Cheesecake Factory
(I had steak and seafood, and finished with a Godiva Chocolate Cheesecake. Eric got the Teriyaki Steak, which is exactly what he got three years ago when my Aunt Lou Jean and Uncle Warren met us for dinner there)
, and the obligatory stop at the Powell Street Station for muni passes, we were free to roam the streets, window shop, people watch, and generally enjoy the atmosphere. We immediately started for Eric's favorite store in all of SF, the Borders by Union Square, only to find it a casualty of Borders bankruptcy reorganization. The good news was that everything was 80% off. The bad news was that the store which formerly had occupied four floors of books and browsing and magazines and beverages and baked goods was now reduced to a floor and a half of books, and no art section at all. It was a short trip, and a sad one. Sigh.
With heavy hearts (Eric's heavier than mine or my mom's), we resumed our wanderings. Luckily for us, something super-cool was waiting just around the corner.
Well, okay, it wasn't exactly around the corner. It was more like two blocks down, across the street, and three blocks to the left.
Aside from the clothes, there were quirky mannequins, lighting fixtures made up of stage lights hanging down from the ceiling at odd angles and from all points, and peppy, perky, fun music that had me subtly grooving down across the floor (making a fool of myself, I'm sure).
The best part of the whole store though, the part that made us stop on the sidewalk and go inside for a closer look (and a picture or two or ten), was
a whole wall
decorated from floor to three-story ceiling with old black sewing machines, very like my grandmother's much loved and much desired Singer Featherweight.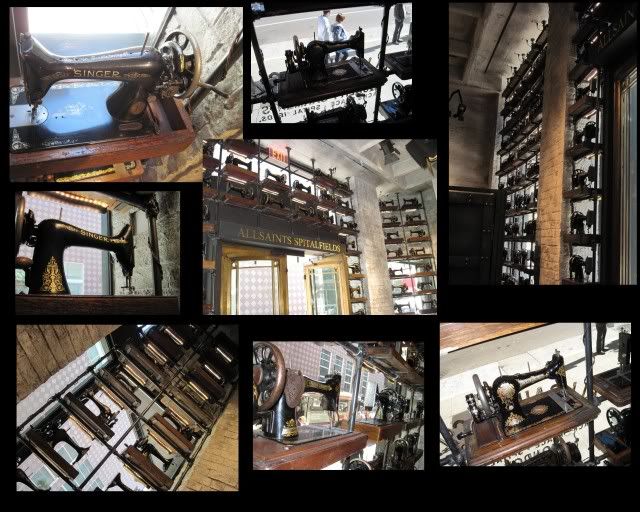 As we explored further, we found that the back wall was covered as well. There must have been hundreds of them. I've never seen anything like it. I mean, what a unique decorating idea!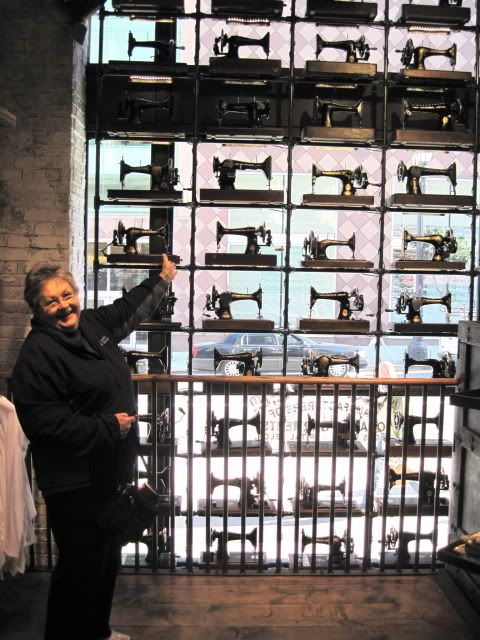 As you might imagine,
(if you know her at all)
My mom was in heaven.