Midwinter Musical Madness 2011 was the best to date, as far as I'm concerned.
We had Stump the Chump and point finagling and poetry, and a whole lot of sports talk, and random tangents at every turn.
We had more people play than ever before.
I personally had more laugh-out-loud (a/k/a LOL) moments than I have ever had before.
We had the comments flying so quickly in the lightning round that my Norton Antivirus stopped letting me onto MY OWN BLOG because it was convinced that I was under a phishing attack.
(I had to get creative to get around that one, believe you me!)
We had our own theme song, which I just have to share here, because it is WAAAAAY too good to be hidden away in the comments.
My Favorite Things
(modified to fit MMM 2011 by Harmony Packer)
Black beans and chicken and baseball and shortstops,
Good books and movies and whim points and rooftops,
Memories with Charlotte and actors that sing,
These are a few of my favorite things.
Pushups and Crossfit, stone lions and gardens,
Roofers and bakers and doctors and cousins,
Good friends who crochet and run around swings,
These are a few of my favorite things.
When the snow falls, when the kids whine,
When I'm feeling sad,
I simply log on to charlottelaughs,
and then I don't feel so bad!
Bale and Ballam and Adams and Andrews,
Lightning and scriptures and heroes and skate shoes,
Broadway and birthdays and chocolate cake flings,
These are a few of my favorite things.
Jimmer and Jacob and fun puns and bloggers,
Salzburg and mountains and Newsies and Dodgers,
Beanies and game nights and kites on their strings,
These are a few of my favorite things.
When the snow falls, when the kids whine,
When I'm feeling sad,
I simply log on to charlottelaughs,
and then I don't feel so bad!
As has been the case from the beginning, I feel like the real winner of Midwinter Musical Madness this year is Charlotte Cantwell. Not in a "I'm sooo much better than you at this" kind of way, but in a "I'm so lucky that you will join/humor me in my silliness, and turn the dull dreary gray month of February into a month of daily laughter and quirky joy" kind of way.
Thank you.
And now, for the moment you've all been waiting for, our real winners:
In a tie for fifth place, we have my dear friend
Carol,
who has the happy distinction of taking her "aunt-hood" responsibilities more seriously than anyone I know, and my dear brother
Robert
. Incidentally, Robert is now the highest-placing male we've ever had in MMM history, AND the only person who's ever had three generations of his direct line playing (mother, himself & his wife, and his daughter and son).
In fourth place, we have another dear friend, treasured former roommate, and the reason I bought a whole bag of mini M&M's to use as potty reward treats for Heather (so far she's earned them exactly 3 times),
Jeri
.
In third place, we have
Harmony
, the author of that little gem of a song above. Really, what more can I say than that? Amazing. Absolutely amazing.
In second place, we have a girl who didn't really even show up to play for the first half of MMM 2011, and still managed to give our winner a run for her money. What a musical pro. Congratulations,
Melissa
.
And in first place, unseating the seemingly undefeatable Melissa for the first time in Musical Madness History, not to mention getting over 100 more points than anyone in her age category has ever received, we have none other than my mother,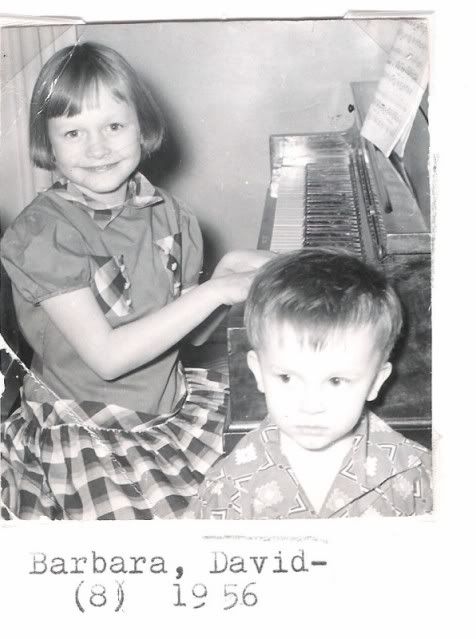 This is my mom at age 8, in the most musical picture I could find of her in my archives. Isn't she just adorable?
Now, I know what you're all thinking.
"Great, but what about the prizes, Charlotte? What does this mean for yours truly?"
Well, I'll tell you.
Bragging Rights, Sidebar Picture and Personal Poetry Prize will go to Barbara.
$50 gift certificate to salutationscrochet.etsy.com or charlottelaughs.etsy.com will go to Harmony, since both Barbara and Melissa basically have a standing $infinity gift certificate to both shops.

(If Harmony would like to split this prize with Jeri, she is very welcome to do so.)

As for the CD, I think everyone in the top 5 already has a copy (you have one, right Jeri?) so if you want one, leave a comment, and I'll see that you get one. Next year I'll probably remove that from the prize package because really, how many copies of one CD does anyone need? I'd say one is plenty.
Evening of games is up in the air, pending discussion with Barbara, then Melissa, then Harmony, then Jeri, then Carol &/or Robert.
Thanks again for a stupendous Midwinter Musical Madness of joy, rejoicing, warmth, silliness, and a whole lot of laughs.
See you all next year.
(And hopefully next week, or tomorrow, or the day after that, or the day after that, when we
(which is really just me--this blog is definitely not a Cantwell family group effort)
will resume our regular mode around here.)