Remember how I had wanted to try a Costco Cake, but we don't have a Costco where I live, but my mom has a Costco close(ish) to where she lives
and
a Costco membership,
and
I was going to be down that way for my birthday?
If that's not serendipity, I don't know what is.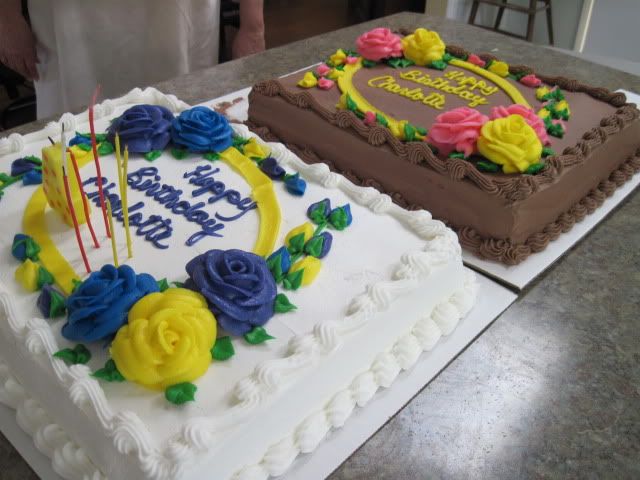 Can you see the "40"? We tend to get a little creative in my family. That's 'cause we're lazy about buying candles.
We had a delicious birthday dinner of Hawaiian Haystacks (at my request) with a green salad that had strawberries in it (not my request, but a really great addition), followed by singing followed by cake and ice cream.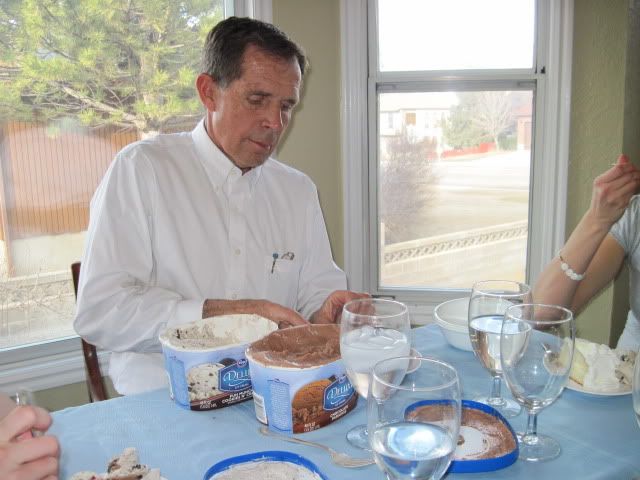 Poor dad. For old times' sake, I asked/demanded of him to serve the ice cream. He doesn't look very excited about it, but that's because he has ice-cream-serving baggage left over from the years of my childhood. I've actually already written about it, but if you can't remember, you can read about it
here
(skip to the italicized part at the end).
ShaLiece taught Heather and Ty the finer points of removing birthday candles, (including the joyous fringe benefit of removing leftover frosting)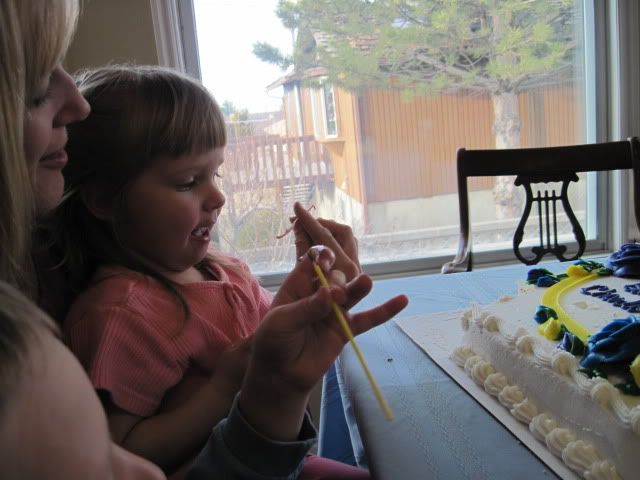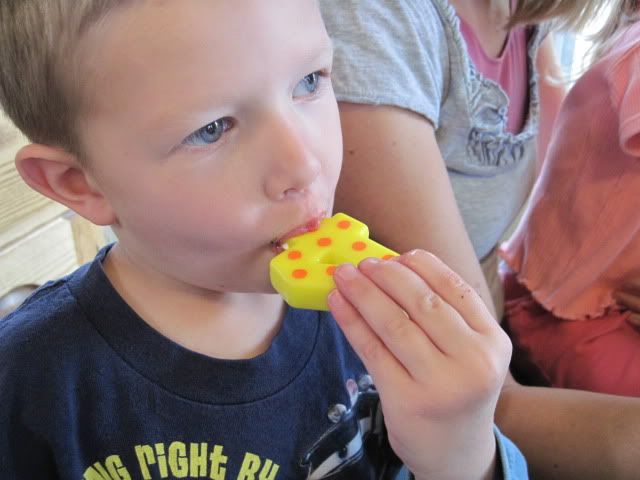 A few notes about the cake:
My birthday fell on a Sunday. So, the cake needed to be purchased on Saturday. However, we thought we were going to have a busy day on Saturday, attending a piano competition in which my nieces and nephew were participating
(as it turned out, Becca and I skipped out on the competition, but we didn't know that we would be doing that at the time that all these decisions were made.)
, so it was determined that my mom would pick up a cake at the Costco in the Salt Lake area, since she would be driving home on Friday from some legislative meetings there. When she asked me if this would be okay,
(Remember how I said that I was spoiled? Proof. Who gets to dictate when their birthday cake is picked up and where it comes from at age 40? Someone who is spoiled.)
I said that would be fine, but I wanted to be able to taste it Friday night, just because I didn't want my first taste of the beloved Costco cake to be tainted by the fact that it was two days old. Mom was okay with that, so a few of us had a sample Friday night. It was delicious, but tasted pretty much the same two days later, in case you were wondering.
Well,
at some point, my mom got thinking about it all, and realized that in order for her to get the cake on Friday, she'd have to get up in the morning (which usually happens around 5:30 or 6:00), and sit around for a couple of hours,
waiting
for Costco to open before she could get on the road to Cedar City. Not wanting to do that, she got up, got ready and hit the road at the crack of dawn, drove through Cedar City, and got to the St. George Costco around 10:00 a.m., picked up the cake, and drove back to Cedar City.
I've got to give props to my mom here. As a girl who knows the pain and boredom of the really long road trip through the sagebrush land that is central and southern Utah, it's meaningful to me that my mother would add two extra hours onto an already long drive, just to indulge me in my desire to have a particular cake. My mother is one in a million. Seriously.
Having said that, I have to razz her a little bit. When she showed me the cake(s), I asked her first why there were two, and why one of them was a white cake. (What is the point of a white cake? Really? My opinion is that if it's not chocolate (or key lime or creme brulee), it's probably not worth the calories.) She assured me that there were many people in the family who preferred white cake to chocolate, and she wanted to be fair to them. I said fine, but that those white-cake lovers better not be planning to eat any of my
chocolate delight.
Ladies and Gentlemen, I give you
Exhibit A
(taken immediately post meal):
Uh-huh.
Apparently the
many
people in the family who preferred white cake weren't all that hungry, huh?
To be fair, when we had seconds, (four hours later), most of the kids wanted white cake, so by the end of the evening, the cakes were more evenly gone.
And with that, I'm starting to bore even myself with all this cake talk (and I'm starting to get hungry, and I have a goal not to eat after 8:00 p.m. and it's 8:43 right now), so I think I'll close. Tune in shortly for the after-dinner-impromptu-birthday-talent-show post, and of course the post that shows all the loot. I think at that point I will have thoroughly exhausted this topic, and you won't have to read about my birthday extravaganzas again for at least a couple of years.