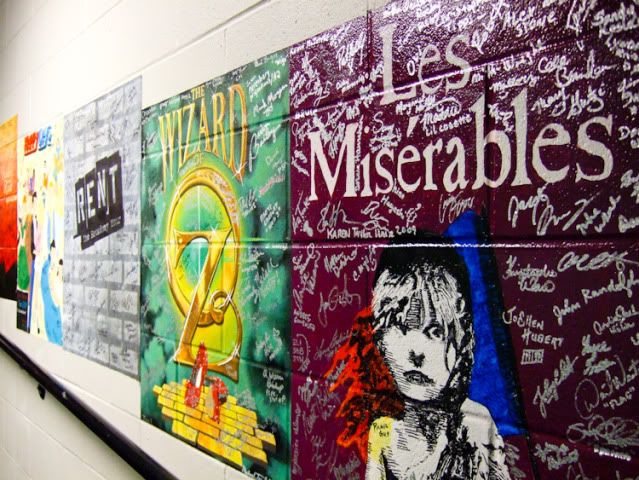 Okay, so here's how Midwinter Musical Madness is going to go this year:
Pretty much the same as last year, and the year before that.
I'll write a post, scan my brain (and my Broadway lyrics books, and the world wide web) to come up with a lyric from a musical that goes along with it, title the post with said lyric, and hit the orange "publish post" button.
You will then read the post, and compete with one another to see who can name the musical, the song, whatever else you want, using
only what you store in your brain
. i.e., you cannot google the lyrics and then post your answer, nor can you call someone and get the answer from them. You are
welcome
to use Google or pick anyone else's brain for general study at any point in the competition however.
(I know--it's not fair. I get to use the internet and you don't. You can deal with that though. You're all remarkably resilient and remarkably talented.)
At some point, we'll decide when we're going to end the game and tally up the points. Probably March-ish. We'll have a lightning round on the last day of competition, where there will be a post every hour or so.
The winner will get a
fabulous showcase showdown
including:
Bragging rights
Your picture on the sidebar of this blog until I decide it's time to move you off. (at said point, your picture will be moved to the bottom of the blog, along with the winners of the 1st and 2nd annual Midwinter Musical Madness Competition)
A poem written all about you by yours truly
A $50 gift certificate to salutationscrochet.etsy.com or charlottelaughs.etsy.com
An autographed copy of Be Still My Soul by Charlotte Corry
An evening of games and dinner hosted by Eric and Charlotte Cantwell (or, if you live along the I-15 corridor, and don't mind having a precocious sometimes moody two-year old along, we will come to you.)(If said prize does not appeal to you, you don't have to redeem it.)
A few additional details . . .
In the (highly unlikely) event that a former winner wins again, she will receive bragging rights and the picture on the sidebar, as well as the dinner and game night (if desired). All other prizes however, will be distributed to the 2nd, 3rd, and 4th place finishers.
Also, just FYI-I'll be writing posts and scheduling them so they come up at all times of the day, so as not to favor any particular time zone.
(So, if you work for the Utah Festival Opera, and you happen to notice that a post comes up when you know that I should be working, rest assured that I wrote it on my own time, okay?)
NEW ADDITION SINCE ORIGINAL POST:
The whims have dictated that married couples aged 60 and over may compete as teams if they like. (The rest of you are on your own.)
Sound good? Okay! Ready,
Set
,
GO!
5 points for the name of the song
2 points for the name of the musical
2 points for the name of the character who sings the song
other points awarded by whim