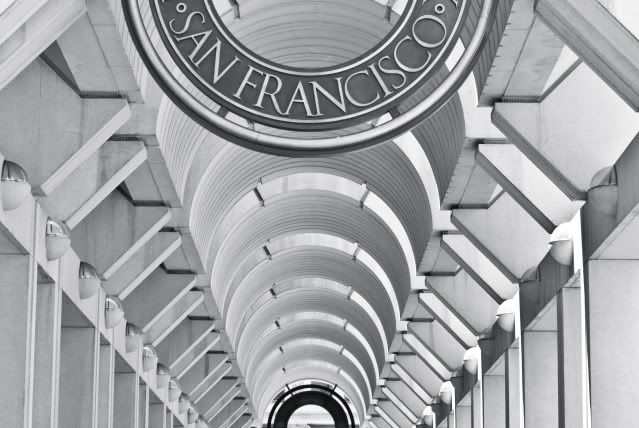 In another case of splendiferous serendipity, Eric and I are once again going to be able to spend a few days in San Francisco soon(ish), mooching off my mom's hotel while she attends meetings befitting an officer of the Utah State School Boards Association. For the past few days, different thoughts have kept running through my head along the lines of "Oh! I've got to remember to do that while we're in SF!"
It was starting to get confusing, so I'm going to make a little list here where I know where I can find it.
So, without further ado:
Things I absolutely want to do while in San Fransisco this time around:
Eat Dim Sum in Chinatown
--I've never had dim sum before. It looks like fun, and Eric says it's great. We were going to do it last time, but didn't get around to it. This time, I think it's my #1 priority.
Go back to the best sandwich shop the world has ever known--
My mouth waters just thinking about it.
See the Sea Lions at Pier 39
--(I had to have one "must do" that wasn't food related) The Sea Lions were there in droves the last time we visited, and then in December of 2009 they just took off for no apparent reason. Now some of them are returning, so just in case they leave again, I want to have another visit. Before we go though, I might just use this handy dandy
webcam
to see if they're out and about.
Things I think would be great to do, if we have time:
Visit the Oakland Temple
--This one is a little dicey, because of time, and the issues of public transportation vs. the cost of cabs. I don't know that I want or need to actually go inside the temple, but I'd like to spend some time on the grounds again. When I was a missionary in the Santa Rosa mission, we would come to the temple every three months, and I have some good memories of time spent there.
Take the Ferry like Kate Beckinsdale does in Serendipity
--See
here
. You
know
I'll be bringing a jaunty cap this time around.
See this in person
: ------------------------------>
It's a sculpture that symbolizes Cupid's arrow, and is supposed to be where Tony Bennet left his heart. It was installed in 2003, so I don't know how I missed it on my other two trips. Probably because we didn't do a lot of exploring over by the Embarcadero last time.
That's all I can think of for now. Maybe I'll continue to add to this list as I ponder, percolate, and dream my way back to Splendid San Francisco.
You may think you know the name of this song (like I did), but you probably don't.
So,
5 points for the name of the show from which it comes
2 points for the name of the character who sings it
10 points if you can correctly identify the title
other points awarded by whim