Warning: This is a really long post with a bunch of pictures of our Christmas activities, and it's probably not going to be all that interesting to most of you. However, as this is my blog, I'm going to post it anyway, because it's very interesting to me.
We left on December 23rd for Cedar City. On December 20th, I convinced Eric that, rather than loading up
all
the gifts, driving them to Cedar, opening them and loading them
all
back again, driving them to Logan, and unloading them again, we'd be better served by having a mini-Christmas at home first with the bigger/more-likely-to-get-lost stuff. He agreed, much to my joy. (Neither of us are very good "wait-ers" anyway.)
Eric shows Heather how to get the most enjoyment out of her new mini-kitchen with matching mom and daughter.
The next morning, we hopped in the car and drove to Cedar. We arrived an hour or two late, thanks to some unscheduled road work that caused us to
crawl
along at 15 mph on the freeway for over an hour.
As frustrating as that was, it was soon forgotten once we were in the middle of family.
As per tradition, we spent Christmas Eve Day doing pretty much exactly the same things that I did as a kid.
We went sledding up at the cabin,
where Heather was more interested in eating the snow than anything else,
and where I spent a good portion of the day coercing brothers, sisters, and nieces and dads (as in, mine) to model
Salutations!
inventory.
That night we went to Aunt Sybil and Uncle Steve's house for our Christmas Eve Meal, Nativity enactment, and talent show.
Upon returning home, my mom presented us all with the traditional beloved Christmas pajamas, and we all tried (unsuccessfully) to get a shot of three kids smiling at the same time.
The kids soon started losing interest,
and our nice portrait opportunity degenerated into a footrace that later became a human demolition derby. (I loved watching every minute of it.)
As reported
, Santa brought Eric's favorite treat.
Heather played at being a kitty for exactly 1.7 seconds.
Daxton got an
awesome
Lightning McQueen race set, and Eric helped set the boys up with a sweet jump. An hour or so later, my mom was wondering what her treasured Better Homes & Gardens Cookbook was doing on the floor (the kids had long since gone on to other diversions.) I covered for Eric as best I could.
(Not really. I ratted him out almost immediately. What can I say? I'm weak weak weak.)
We spent Christmas Day like that, playing with toys, & stuff, with everyone that was in town filling up the house for several hours. At one point in the evening I looked around to see the living room full of kids and adults, but
not one single child was playing with another child.
Every kid had paired off with one of the grown-ups. (To be fair, there
were
six or seven adult-less kids downstairs at the time.)
The next day I held
yet another
Salutations! photoshoot:
(Don't think that I don't know how lucky I am to have such an amiable family. I do.)
Meanwhile, Mark and Eliza dressed up in Nerf Gear and proceeded to terrorize the rest of the family.
I think it's a little fishy that they are only ones with protective eyewear and shields on, and yet THEY ARE THE ONLY ONES WITH WEAPONS!!
HOW IS THAT FAIR??
One night my parents and brother teamed up to give us a delicious in-home steak dinner. (My parents bought all the food, Robert cooked the steaks to perfection, and my mom made the other fixins.)
I was too busy inhaling my food during the meal to take any pictures, but here's the beautiful table before it all began.
Every year all my siblings get together and we get a group gift for my parents. These dishes were a gift from a few years ago.
My mom has a thing for Santa Claus.
The kids had a pizza party before the grown-up meal
(Heather had 3 large pieces. I'm not kidding. That kid can eat more than me or Eric)
, and then we banished them downstairs to watch a video. They were originally going to watch
Cars
, but that got out-voted. I don't remember what won out. (You don't really care though, do you?)
That night, we had a slumber party, with some kids (and adults) crashing on couches and floors. This was my mom's doing, and it enabled all the grown-ups who wanted to, to stay up until midnight or so, talking and playing
Ticket to Ride
. I came in dead last. Big surprise there.
The next morning, grandma treated all the pajama-clad grandkids to a delicious cinnamon pancake breakfast.
There was some late-to-the-party opening of Christmas gifts, which resulted in some unique headwear modeling for the next few hours
(in perfect daylight, I might add)
A few hours later, I led a little tamale-making workshop: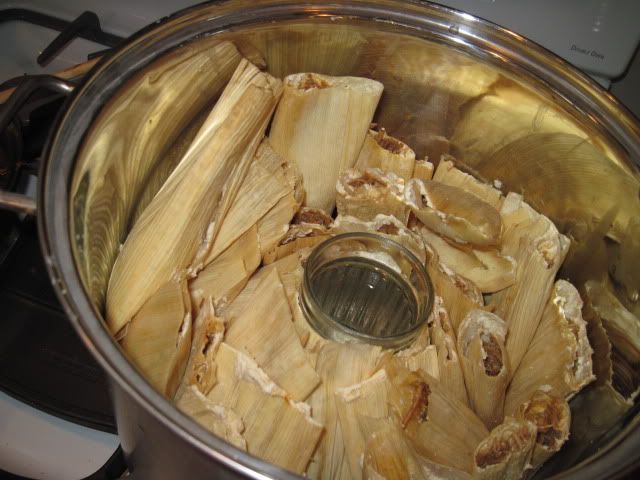 (They were delicious.)
And so followed the day. There was more hanging out, chatting, and playing, and I roped in the only sisters-in-law that I hadn't already photographed for one final Salutations shoot.
It started to snow in the middle of me demonstrating my mad photo skillz, but Krista and Maegan (those saints!) soldiered on with me.
The next day we packed everything up and headed home. We drove on wet-sometimes-slick roads through a semi-mild snowstorm, arriving home safe and sound with good memories of great times.
When I think about it, my memories are a jumble of joy.