So, here's our weekend report:
Friday Heather and I went to get Frozen Yogurt together (Eric opted to stay home). There's a new place close to our house that serves fat-free and low-fat and no-sugar-added frozen yogurt. You serve yourself, add your own toppings and then pay by the weight. We opted for a chocolate yogurt with Reeses Peanut Butter Cups, and shared a small one. After yogurt we went to Wal-Mart where I bought a mini muffin tin, some cookie cutters, a heating pad, some soda for Eric, and some night-time diapers for Heather.
That day
Despicable Me
came via Netflix, and I watched it after Heather had gone to bed. Eric sat a few feet away from me and watched something else on the computer. My review of
Despicable Me
is that it's not a bad movie, but not all that compelling. I only got through half of it Friday night (I got up at 5:30 Friday morning, which resulted in me running out of gas around 9:45 that night), and I haven't finished it yet, if that tells you anything.
Saturday morning Heather and I went to pick up our Bountiful Basket, and found that it contained asparagus, strawberries, and pomelos. Wa-Hoo!
We came home, put the produce on the counter, picked up Eric and headed to Aunt Donna's house. Once there we deposited Heather, and went to the Logan Temple. We did sealings together, and while enjoying the peace that I nearly always feel when I'm in the temple, I was able to get a better handle on something that had been tickling the back of my mind for about three months. A little benefit that I hadn't expected.
We went back to pick up Heather and took a family jaunt to our new favorite taco dive for a family lunch.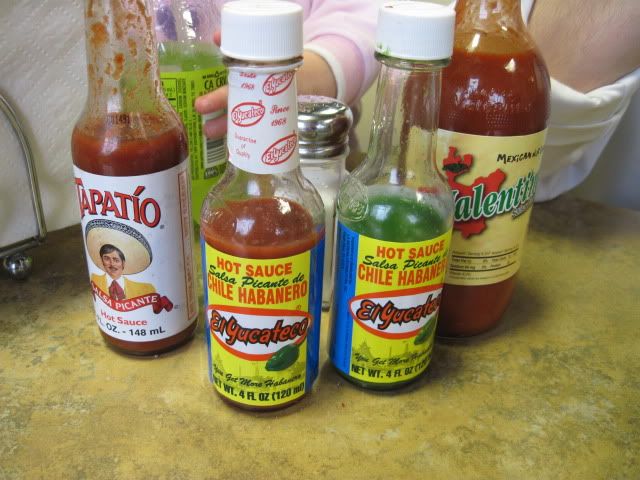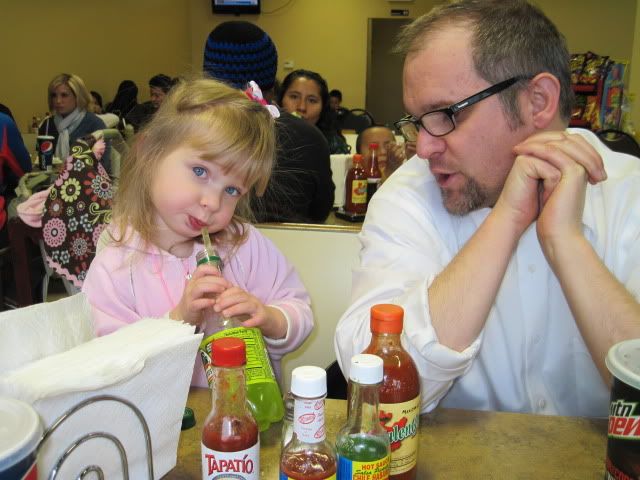 I spent probably fifteen minutes of our lunch contemplating whether or not I could make a hat like that blue and black one behind Heather's head. I think I could, but I don't know whether or not I want to make the time to do it.
Eric got the chimichanga, I got the carne asada, and Heather got beans and rice. She spilled her lime soda all over her coat, which was definitely not a highlight, but it's been unseasonably warm for January, so it wasn't all
that
big a deal.
We spent the rest of the afternoon and evening hanging out, piddling around with this and that. On the recommendation of one of my cousins, I made
these cupcakes
(sans filling and frosting and decorative cookies on top), and they were delicious. Be aware though, they contain three sticks of butter per 24 cupcakes. So, as good as they are, they will be joining the ranks of foods that we save for very special occasions around here.
And then we come to Sunday. We got a late start on the morning, but fortunately we have church at 11, so it was no big deal. Church was fine. Eric's home teaching companion was one of the youth speakers, and both of the non-youth speakers spoke on missionary work. For the rest hymn we sang
Let us Oft Speak Kind Words to Eachother
, and I was reminded of how my mom used to sing that to me and my brothers and sister when we got arguing or fighting.
After church we came home and had lunch, and then all three of us took naps. (Hooray!) I finished reading one of the books that Eric gave me for Christmas, and pondered a bit on how I should teach next months song to the primary children. Then it was bathtime, and then storytime.
* * *
Heather has a favorite song from her Best of Sesame Street Video. We sing it almost every night as we're heading up the stairs to go to bed. On Sesame Street, the song is sung by Elmo, Zoe, Grover, and Destiny's Child, and it goes:
I've got a new way to walk
(walk walk)
I've got a new way to walk
(walk walk)
I've got a new way to walk, and my new walk suits me fine.
That's kind of how I'm feeling about life right now. It's not perfect (I'm missing the sunshine, for one thing), but really, all things considered,
it suits me fine.