I love Christmas music, but I'm picky about it. I like what I call classic
Christmas music. Meaning, I like instrumental Christmas music, I like choral Christmas music, I like individual singers or small groups singing traditional carols, and even newer carols if they are thoughtful with beautiful melodies.
I'm not a big fan of many of the Christmas albums put out by popular singers. I love Neil Diamond eleven months out of the year, but I absolutely don't want to listen to him in December. I have a Manhattan Transfer Christmas CD that some years doesn't even make it out of the case. Same for my Glen Miller Christmas album. I'm a
die hard
Peter Breinholt fan, and own all of his albums but one. Any guesses on what one that might be? (here's a pretty broad
hint
)
.
Last year, on a whim, I bought a
CD of popular Christmas songs
that was sold by the post office. It took me only one listen to remember that this was not my thing. I don't even know where that CD is now.
So, when I heard that the Mormon Church had set up a stream of Christmas Music, I gave it a listen.
Love it.
It's all Mormon Tabernacle Choir (as nearly as I can tell), along with different soloists (probably from the Christmas Concerts that they've been doing over the years).
If you want to try it out, go
here
.
And, as long as we're talking about Christmas Music, I want to give a quick shout out for my new Christmas CD for 2010. It's the
Voice Male Christmas Live
2 CD set. In addition to having sentimental value for me (it's
Phil Kesler's
last CD), I like it for its merits. I like the songs they chose
(although I wish they would have included the Heidi/Phil duet of I'll be Home for Christmas. Obviously I wasn't consulted on that-- again.)
I think the selections strike a near perfect balance between the sacred spiritual side and joyful playful side of the season. Best of all, since it's a live recording, there are lots of jokes and sillinesses between the songs that just crack me up.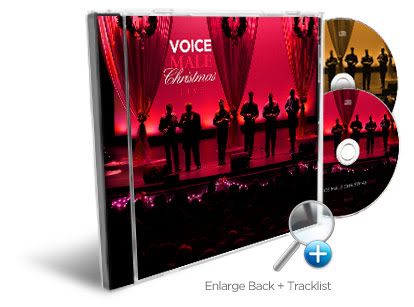 And now, just to end this all, I'm just going to list just a few of my favorite Christmas songs/albums.
A Mormon Tabernacle Choir Christmas
(The arrangement of The First Noel sometimes makes me cry)
Amahl and the Night Vistors
Handel's Messiah
Celtic Woman - A Christmas Celebration
Pretty Much Any Christmas Music by
Kurt Bestor
Amy Grant's 2003 Christmas Album
(I always skip over "Rockin' Around the Christmas Tree)
. . . also, in spite of what I just wrote about my Christmas Music snobbery, I freely admit that anytime I hear any version of Adam Sandler's Hanukkah song, I bust up laughing. Hey, we all have our guilty pleasures, right?
So, what about you? Any Christmas music you particularly like?
(Don't worry--Like
Planet Fitness
, this post is a Judgement Free Zone.)