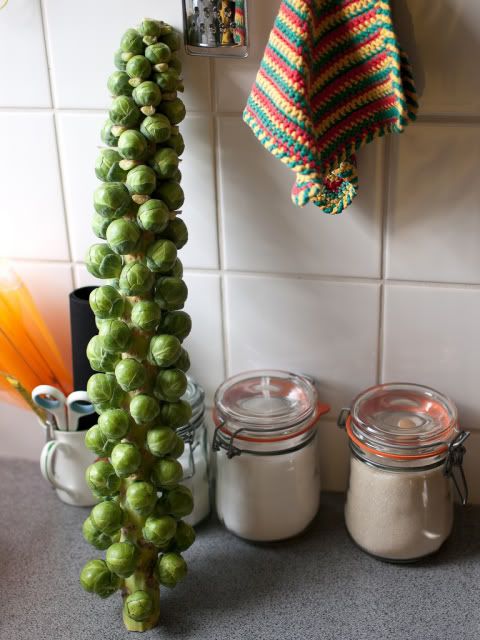 So, awhile back, we found ourselves with some Brussles sprouts in our fridge. I had tried Brussels sprouts for the first time in many many years a few months previously (follow that?), with disappointing results.
(Alas.)
But, this really short story has a happy ending.
(Hooray!)
This time around, I found
a recipe for "Crunchy Sweet Brussels Sprout Salad"
. I don't particularly care for the name, because to me, a salad is something that is served cold, and this concoction is served warm. So, in my mind,
I
call this baby "Crunchy Sweet Brussels Sprout
Delight
".
Whatever you call it, it's delicious. Now that I know this little number, Brussels sprouts are welcome in our home anytime.
* * *
And, as long as we're talking about Brussels sprouts recipes, you might be interested in this recipe for
Brussels Sprouts Gratin
, posted recently by one of my (second) cousins. I haven't tried it (yet?), but I can vouch for Mary Ann's choices. Everything I've made from her blog has been mmmm mmmm deee-licious.
* * *
As long as we're
still
talking about Brussels sprouts, here are some little known facts about said vegetable:
They contain high amounts of vitamin A, vitamin C, folic acid, and dietary fiber.
They are believed to have potent anti-cancer properties (along with broccoli). However, if you boil them, it removes some of those properties. Steaming, stir-frying, and microwaving are all okay.
If you overcook your Brussels sprouts, they release a glucosinolate sinigrin, which has a sulfurous odor. Blech!
There's a whole line of kids clothing named after Brussels sprouts. (Does that seem weird to anyone else? Next thing you know there will be a "Liver and Onions" outlet for child couture.)
And that's what I have for today.
Picture of Brussels sprouts (Did you know that they grow like that? I didn't) compliments of cbmd.
Speaking of that picture--what do you think about the multi-colored dishtowel?
Specifically, do you think it's crocheted? I can't decide for sure..