Not surprisingly, they are both desserts.
(and they are both fairly high-fat desserts)

(you've been warned)


On Saturday, we hosted a casual get-together to celebrate a very important birthday of one of our good friends.
(Are you surprised it was casual? Really, have we ever hosted anything else? Casual is all we do. It's casual or nothing around here, so we choose casual nearly every time.)
I didn't take a single picture the whole evening, which is kind of unfortunate, because Heather was in a room full of adoring adults, and spent the entire evening doing tricks and making me proud as punch to be the mother of that darling little girl. I'm hopeless, but at least I realize that I'm hopeless.
So, because I didn't take a picture that night, I'm forced to go back into the photo archives to find a picture of Irene, our birthday girl.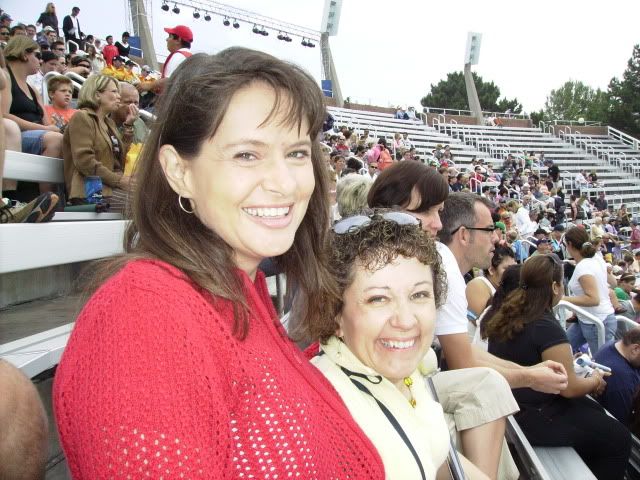 Picture taken in 2006, at Sea World. (I still have that sweater, and wear it quite frequently. Sadly, the earrings turned an ugly gray and are no more.)(But, this picture isn't about me anyway, is it? Silly Charlotte.)
Anyway, it was a lovely afternoon gathering. Saturday was the opening day of the
LDS Church General Conference
, so we had it after the Saturday afternoon session ended and before the Priesthood session began. I didn't want to mess with a "dinner" affair
(ultra-casual, remember)
, so I asked anyone who wanted to, to bring either an appetizer or a dessert. I made French Silk Pie, and Chocolate Peanut Butter Cake. They both turned out well (I knew the cake would, since I've made it about 45 times before this), and so I thought I'd share the recipes here.
FRENCH SILK PIE

(the Better Homes and Gardens NEW Cookbook)


(This cookbook is subtitled: "America's #1 Cookbook Since 1930", and I heartily agree. My mother had this cookbook when I was growing up, and now I have my own copy. It is my go-to cookbook for everything from how to steam different varieties of vegetables to how to make stuffed mushrooms and chocolate souffle, and everything in between. I
cannot
say enough good about this cookbook.)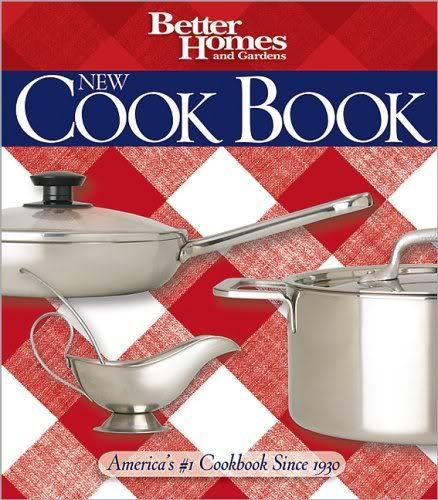 My edition of the cookbook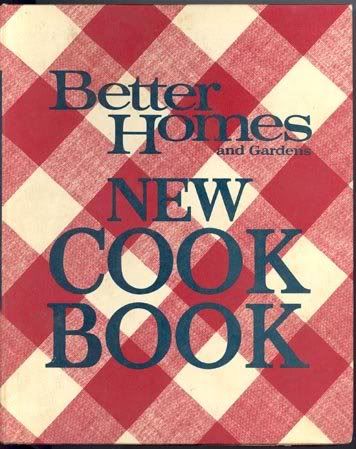 my mom's edition of the cookbook
Anyway, here's the recipe:
1 recipe Baked Pastry Shell
(I just buy the frozen pie crusts at the store. You can get two for less that $2, and I figure that's a small price to pay for me not to have to deal with pie crusts. Besides, if I actually made the pie crust, I'd realize just how much shortening/butter is in that baby, and I could never enjoy a pie again.)
1 cup whipping cream
1 cup semisweet chocolate pieces (1/2 of a regular size bag)
1/3 cup butter
(I used Imperial margarine. Please don't comment on how bad margarine is. I don't want to hear it.)
1/3 cup sugar
2 egg yolks, beaten
3 tablespoons creme de cacao or whipping cream
(I used whipping cream. I don't even know what creme de cacao is.)
1 cup whipped cream
Prepare Baked Pastry Shell; set aside. In a medium heavy saucepan combine 1 cup whipping cream, the chocolate pieces, butter, and sugar. Cook over low heat, stirring constantly, until chocolate is melted (about 10 minutes). Remove from heat. Gradually stir half of the hot mixture into egg yolks. Return egg mixture to chocolate mixture in saucepan. Cook over medium-low heat, stirring constantly, until mixture is slightly thickened and begins to bubble (about 5 minutes). Remove from heat. (Mixture may appear slightly curdled.) Stir in the 3 tablespoons creme de cacao. Place the saucepan in a bowl of ice water, stirring occasionally, until the mixture stiffens and becomes hard to stir (about 20 minutes).
Transfer the chocolate mixture to a medium mixing bowl. Beat chocolate mixture with an electric mixer on medium to high speed for 2 to 3 minutes or until light and fluffy. Spread filling in the Baked Pastry Shell. Cover and chill for 5 to 24 hours. To serve, top with whipped cream.
MAE'S PEANUT BUTTER & FUDGE CAKE


(Utah Festival Opera Company Cookbook-1995--Compiled by the Utah Festival Opera Guild)


(During my first summer of employment at the Utah Festival Opera, the guild produced a cookbook to sell before the shows, featuring recipes from the cast, crew, and other associated with the company. I was able to acquire a copy, and I have never been sorry. I have since learned that NO ONE knows how to cook or eat like an opera person, and I have at least three recipes form this book that have become regulars on our table with several others that make occasional appearances.


This particular recipe came from Leslie Jones--who played in The Magic Flute and La Traviata that year. She says:

'This is the official birthday cake for my family. When a cake tastes this good, no fancy decorations are needed, just a big cup of coffee or glass of milk!'

I can't personally vouch for the big cup of coffee, but I LOVE this cake with a big glass of milk.)
CAKE:
Mix 1/2 cup smooth peanut butter into ingredients for a standard yellow cake mix. Bake according to cake mix directions.
ICING:
(Note: I often make this cake as a bundt cake or a 9x11, and I find that this recipe makes too much frosting. I've tried halving it, and that just barely makes enough. Maybe I'll try to make 2/3 or 3/4 of the recipe next time. )
1/2 cup butter or margarine
1/2 cup cocoa
1/4 tsp salt
6 Tbs milk
1 tsp vanilla extract
1 lb confectioner's sugar
Melt butter or margarine in saucepan. Remove from heat and stir in cocoa until smooth. Add salt, milk, and vanilla extract. Add confectioner's sugar and stir until fairly smooth. Return the saucepan to the heat, stirring constantly, until the mixture is a smooth spreading consistency. ice the cake immediately, or the icing will quickly become to hard to worth with. NOTE: Baking the cake as a single-layer sheet cake is the easiest way to use this recipe, as the icing can then simply be poured over the cake while still in the pan.
And there you have it. Thanks Irene, for a great celebration of an even greater person!