So, in looking over my pictures of our little romantic adventure, I've discovered that I really only took pictures on days one and four, leaving most of days two, three, and five to my memory.
I guess that's the way it goes sometimes.
We started our journey by doing what we ended up doing for most of the trip; browsing and shopping. We stopped en route in Layton so we could go to the Deseret Industries Thrift Store there. I purchased five sweaters (all for the yarn), and Eric purchased a first U.S. edition of
Harry Potter and the Chamber of Secrets
for five dollars.
(Yesterday he did a little research online and found out that the book is currently worth exactly five dollars on the black market. So, we didn't exactly come out ahead on that one, but there's still time, right?)
We also stopped in Centerville to explore that retail outlet of all retail outlets, the great Target. Oh how I love a good Target.
And then it was off to Salt Lake, where (as I mentioned earlier) we had reservations at the Metropolitan Inn.
What a stellar room!
We decided to visit Trolley Square, primarily because we wanted to splurge (money-wise
and
calorie-wise) by eating at Rodizio Grill.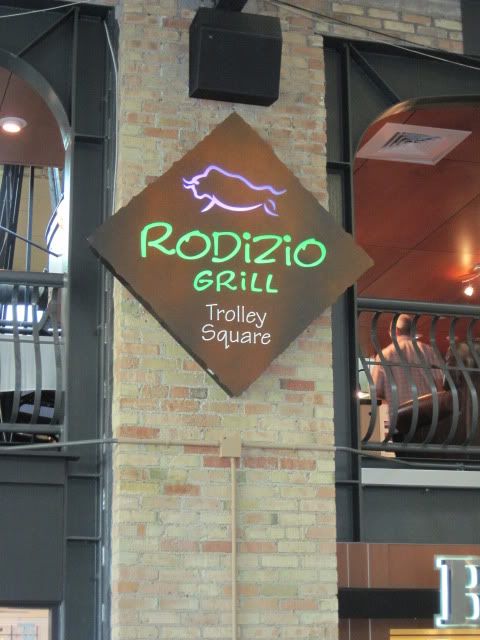 On the way there, Eric and I traded childhood memories (and more recent memories) of going to Trolley Square over the years. Eric in particular rhapsodized over a certain candy shop and the amazing salt sater taffy that they made there. We commiserated over the fact that the shop was long gone now.
But wait! What should we find upon exploration of Trolley Square . . .
The very shop, and the very candy!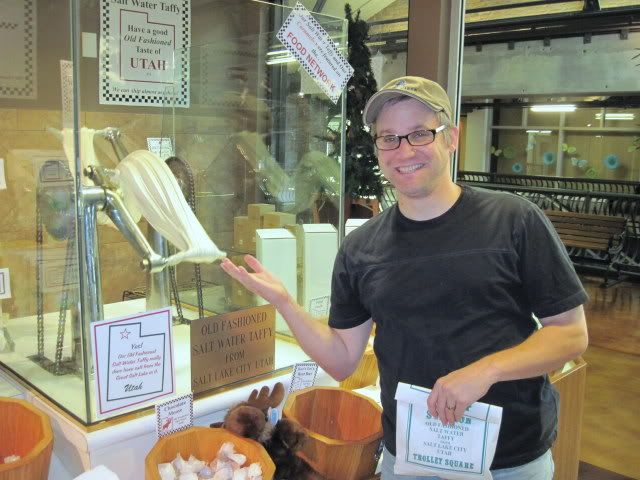 The taffy is absolutely delicious. You know how sometimes you remember something from your childhood, and then when you grow up you experience it again, and it's just not anywhere near as good as you remember it being? That was
absolutely
not the case this time.
After dinner, we roamed around the shops at Trolley Square, where Eric met
the man who designed all the eyewear for

Bladerunner
, and I tried to decide if I could create a knock-off of a $69 wall-hanging I found at Pottery Barn Kids.
Then we went to Iron Man 2, in what may be the last dollar theatre in Utah.
All in all, an absolutely lovely day.