The summer after my junior year in high school, my parents loaded a whole bunch of supplies and bedding and clothing and their six kids in a brown and tan suburban, and we all left on vacation for Georgia. Five of us had lived in Georgia for three years when I was a little little girl, but by the time I was in the first grade, we had moved to Cedar City, where my parents still live. We'd never been back to the south, and we'd never traveled so far from home together. This was an exciting event.
A big part of our trip was spent in Columbus (Georgia, not Ohio), which was where my father had done his family practice residency period, and which was where I attended kindergarten. Our best friends from those days, the Leukhardts, were living there, and we stayed in their home for a few days. It was great fun. The Leukhardts have a daughter my same age, and although we had corresponded by mail here and there as we were growing up, this was the first time I had seen her since we were kindergartners. So, for me, hanging out with them all was an extra-special treat.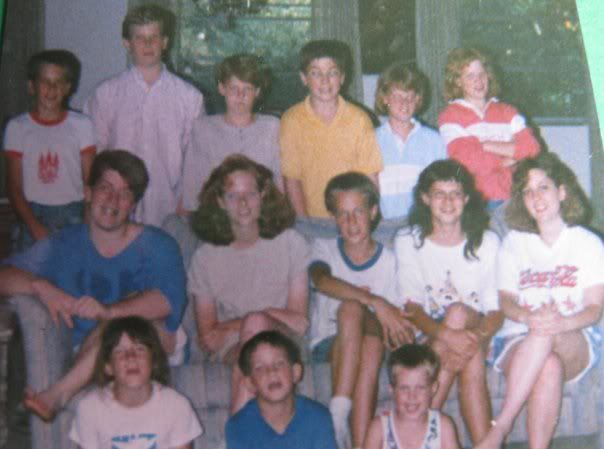 A really grainy picture of the Leukhardt kids, the Elliot kids, and the Corry kids--Columbus Georgia, June 1988.
(I'm on the middle row, second from the right.)
One chance comment though, made by Brother Leukhardt (who I suppose I could just call Mike, but when I was little I called him "Brother Leukhardt", and old habits die hard and I can't bring myself to do it) changed the course of my summer. He was driving us around somewhere, and he and my parents were talking about what changes had happened in the area, and specifically in the church, since we'd been there ten years earlier. Among other things, Brother Leukhardt mentioned that Columbus now had its own Stake, which was a pretty big deal.
At the time, I didn't think much of that, but as we said goodbye to the Leukhardts and continued on our trip, the impact of that fact hit me more and more. To explain a bit, congregations of the Church of Jesus Christ of Latter-day Saints are broken up into branches, wards, and stakes. A ward is a geographical grouping of between 200 and 500 active members of the church. A branch is basically a group that's too small to be a ward. A stake is a group of wards and branches, generally five to eight of them.
For the next several days, I would think about Columbus and Cedar City and the church as I was falling asleep at night. At the time (1988), Cedar City had a population of around 20,000 people. We had three stoplights, two movie theatres, and two city parks. Compared to Columbus (current population over 190,000), Cedar City was a teeny tiny microscopic blip on the map. Yet, minuscule Cedar City, had
three
LDS Stakes, four if you counted the one in Enoch,
(a much smaller town just outside of the city limits)
, while nearly ten-times-as-big Columbus had only recently been organized into its own Stake for the first time ever.
That absolutely didn't make sense to me, and as I digested all of it, for the first time in my life, I began to seriously question the truthfulness of the gospel of Jesus Christ as I had learned it. The more I thought about it, the more concerned and worried, and even frightened I became. I just couldn't understand how it was possible that if this church was true, as I had been taught and as I had believed,
why so few people were a part of it?
We eventually arrived home, and I continued to ponder about it all. I talked it over with my parents, and while they were understanding and supportive, they ultimately couldn't answer my question to my satisfaction. I continued attending LDS church meetings, reading the scriptures, and going about my life as usual, but I did it with a little less vigor and a lot more apprehension than before. It was a hard time for me.
Pretty quickly, I determined that I couldn't go around wondering any longer. I decided that I was going to have to find out for myself whether or not the church was true, and that I was going to need God's help to do it. I started praying more frequently and more fervently. I stopped
reading
the scriptures, and I started
studying
the scriptures. As I would read the Book of Mormon every morning, I did so with my whole brain tuned in, paying attention to what was written, and how I felt about what was written. I started
praying
(rather than "saying my prayers") before I read, and then again at the end of each day, every time asking the Lord to tell me whether or not what I was reading was from Him, or not.
It was a long process for an impatient 17-year old, and it took me most of the summer.


Even so, I received my answer.
I've heard spiritual confirmation stories of Mormons all my life. Many of them feature a watershed experience, a pinpoint moment in their lives, a time when a specific question was asked and answered, a miraculous feeling they received or voice they heard, a time when one minute they didn't know and the next they did.
Others have a different story. They talk about something that's more gradual, less intense, headlin-ey. I'm among that group.
Sometimes, I wish I was in the first group. Sometimes, I wish I could look back on that summer and say that on August 14th 1988 at 9:45 p.m., as I was praying and asking for an answer, that I heard a calm and peaceful voice in my mind say "It's true", and that the voice was accompanied by a feeling of so much peace and joy and happiness that I could never forget it and never deny it.
And more often, I'm grateful for the answer that I received, and the manner in which it came. It happened gradually, and almost imperceptibly, but at the end of that summer, I knew. I knew that the Book of Mormon was a true book of scripture, I knew that Joseph Smith was a Prophet of God, and I knew that the Church of Jesus Christ of Latter-day Saints was God's church on the earth. I still didn't understand how so few people could be a part of it all
(I have a few theories now, but that's a conversation for another time)
, but that didn't matter so much to me, because regardless of the questions in my head, I had the answers that I really needed, in my heart.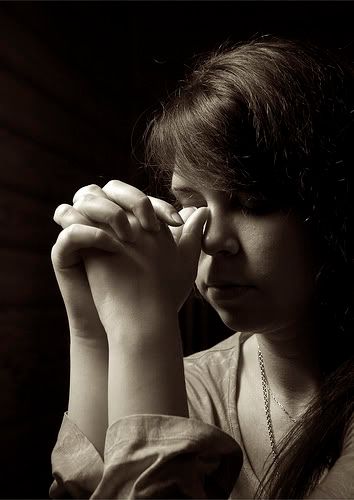 I still know.
Georgia kids photo from my personal collection
prayer photo
here
.