I was recently asked to answer the question, "What song most resembles you and/or your life and why."
I tend not to like phrases that contain the words "most", "never", "always", "best", or others along that line, and if pressed, I'm afraid that I can't really come up with a song that
most
resembles me or my life. However, here are three songs that I relate to, followed by hopefully-not-too-rambly explanations of why.
God Bless the Broken Road
: It took me what seemed like ages and ages and ages to find my Eric. I had to go on more first dates than I even want to think about. I had to endure more set-ups than I even want to think about (which is why, if you're reading this and you're my friend and you're single, I've probably never tried to set
you
up.) I cried more tears than I even want to think about.
(I also had a whole lot of fun, living a mostly-carefree single life, traveling, socializing, doing what I wanted when I wanted. That doesn't really line up with where I'm going with this song though, so we'll leave it for now.)
However, all those first dates and set-ups and tears were part of the road that led me to where I am now. And, I've gotta say, where I am now is a pretty darn good place to be. So, I have to be grateful for that road, and I am.
Here's a link
to the song. (Cheese alert: Some of the pictures and additional words are a little over the top for my taste)
For Good
(from
Wicked
): I can't hear this song without thinking of my dear
Heidi
. We became friends within two months of the time I moved to Cache Valley, and ended up being roommates for nine years. We got married within one year of each other, and gave birth to baby girls within a year and a half of each other. I still remember some of the chats we had, one of us leaning in the door frame of the bedroom of the other, laughing over the days quirks, exchanging opinions, venting, exploring each others thoughts. I learned so much during those nine years, and I'm still learning.
There is at least one glaring difference between the lyrics of song and my life though. There's a part that says, "Who can say if I've been changed for the better, but because I know you, I have been changed for good." Well, perhaps Elfaba and Glinda couldn't say, but as for me
I
can
certainly
say if I've been changed for the better, and the answer is an absolute positive YES.
Here's a link
to the song.
Of course, I can't write a whole post, listing only two non-peppy songs. Not Charlotte, the girl who almost lives, breathes, and eats peppy tunes. So, the last song that somewhat resembles me?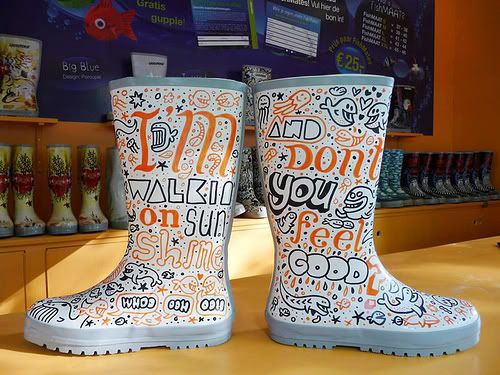 Walkin' on Sunshine--
(by Katrina and the Waves)
: Why?
Because sometimes I do.

(link)
Oh-p.s. I've got
two
sources who tell me they've got pictures of lion statues in countries other than the U.S. You know what that means? USoSL is going
international
baby! Oh yeah!!!! Stay tuned for pictures!
(Kristi, mom, and Becca--come through for me, okay? Don't leave me hanging here.)

(Please?)