On and off for the past year or so, I've been listening to books on tape as I run around town in the trusty RAV, rather than listening to the radio or music CDs. A few weeks ago it was
The Second Summer of the Sisterhood (of the Traveling Pants)
, which was followed by
The Sisterhood of the Traveling Pants
, (
yes, I know I listened to those in the wrong order. What'cha gonna do about it?
) which was interrupted when I finally rose to the top of the library queue for
Hunger Games
. After finishing that, I picked up with
the Sisterhood
where I left off, and just finished that up a few days ago. Tuesday I was able to make a quick stop and the library, and I picked up
The Long Winter
by Laura Ingalls Wilder. If I remember right, that book was one of my favorite of the Little House series when I read them all in my schoolgirl days.
I've been listening to it for two days now, and right now, as I look out my beautiful bay window, It's snowing.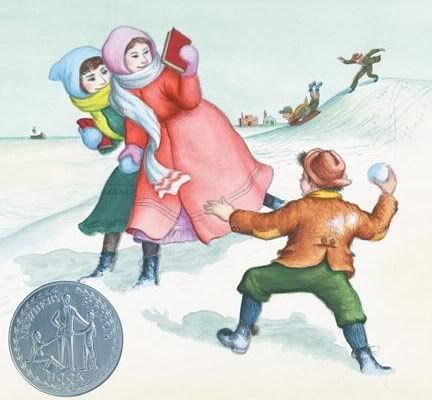 Coincidence?

I think not!!

The title is a total semi-lame inside joke, but I'll let you in on it, since I hate the feeling of left-outedness that I get when people make inside jokes in my presence. So, go
here
, read the post that my friend Harmony wrote on May 4 (it's short, so don't be afraid), and this title will all make sense. Aren't you glad to be in the loop?