Eric quote of the day:
(shouted, in a loving, teasing shout)
(to Heather)
You can either have tooth-brushes or kisses!
Which is is going to be?
(Heather's not a big fan of having her teeth brushed, and when the kissing is done by her goatee-d father, she's not all that keen on those either)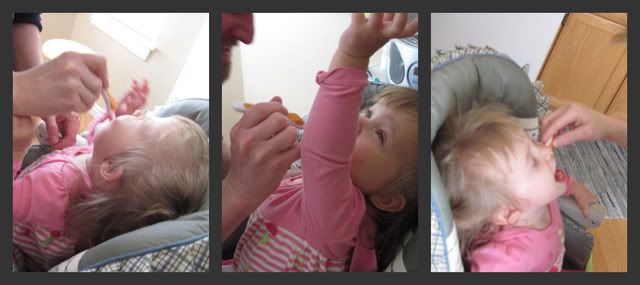 Mothers Day Eve may be my new favorite holiday--this year anyway. It started last night, when Donna and Steve came over for games and laughs. We stayed up waay too late, but it was
so
worth it.
Then this morning, I got up at the
crack of dawn
(actually 7:15) so I could pick up my Bountiful Baskets of fruit and vegetable goodness. (watermelon and mangoes this week, hooray!) A lazy morning followed by a glorious afternoon nap only added to the joy. Eric went out and bought me two Mother's Day presents* , and brought home take-out Indian Food for our evening enjoyment. I don't know if there's a meal on earth that I love more than Spinach Saag and Chicken Coconut Kurma coupled with Basati Rice and Garlic Naan. Mmm, mmm!
Tomorrow I lead the Primary kids as they sing their obligatory two Mothers Day songs in Sacrament meeting. I've been pumping them up for it for two weeks now, telling them that this is the highlight of the year for many mothers. (Sisters and sisters-in-law, back me up on this, please!)
Let's hope they come through in the clutch.
*He got me two books. I love it when Eric buys me books because he does his research, and he's yet to get me something that I don't absolutely enjoy. Oh, and yes, I "opened" (i.e.-pulled them out of the Borders sack) early. Surprised?