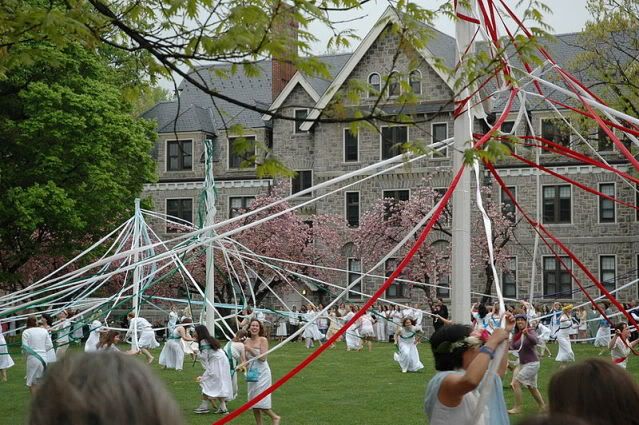 There was a time when May Day was my favorite holiday.
(Now I think it's Thanksgiving.)
If I had more energy, I'd take the time to scan a bunch of pictures of May Days past in honor of this auspicious day. Pictures of me and
Janet
, putting dandelions in paper cups and delivering them anonymously to our fellow High School Choir members. Pictures of the old Geo Metro, covered in construction paper daisies, courtesy of
Heidi
.
Good times.
But, I've got a monster cold and a complete lack of pep and creative ideas and as a result, so we're celebrating May Day by surfing the internet (me), helping our neighbors move (Eric), and raiding the pantry to make stacks of peanut jars, canned chicken, and kidney beans throughout the living room (Heather).
Does it get any better?
Well, actually, it might. There's the potential for Eric and I to go on a bona fide date this afternoon--grandma's watching Heather and everything. So, I'd better get off the computer and rest up for that, don't you think?
(Maypole image found
here
)