Did you know that April is National Poetry Month?
Me neither.
If you want to know the truth, I'm not all that big into poetry. I think that's because I read fast, and get frustrated if I can't get the gist of something at first glance. Since poetry is all about the way the words move together and look and sound, and not so much about the sharing of information, I miss out when I try to go about it in my usual way.
Sometimes though, a poem will capture my attention, and I'll take the time to really think about it, feel it, and even let it be part of me. It doesn't happen often, but it does happen.
So, in honor of National Poetry Month, I present to you two such poems. The first one, "Good Timber" is one that I have been reciting to myself for years. Very frequently when I feel overwhelmed, taken advantage of, unfairly treated, or just plain unhappy I'll let some of the words run though my mind. Doing so always gives me courage and strength to carry on.
The second one, "i carry your heart" I learned as a song many years ago. I can't explain why I love it. I just do.
Anway, here are the poems: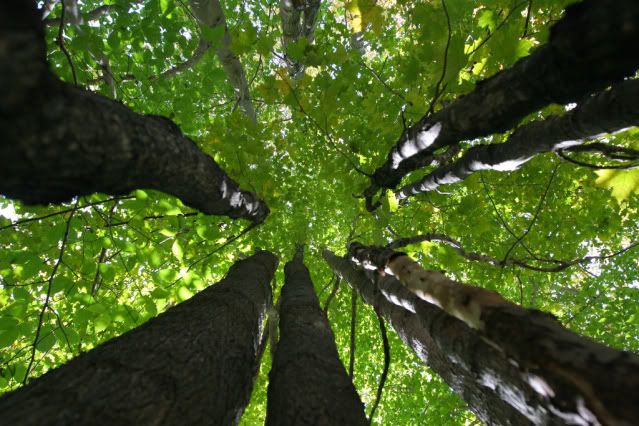 Good Timber

by Douglas Malloch
(italics and bold added by Charlotte--to give added emphasis to my very favorite part)


The tree that never had to fight
For sun and sky and air and light,
But stood out in the open plain
And always got its share of rain,
Never became a forest king
But lived and died a scrubby thing.

The man who never had to toil
To gain and farm his patch of soil,
Who never had to win his share
Of sun and sky and light and air,
Never became a manly man
But lived and died as he began.

Good timber does not grow with ease:
The stronger wind, the stronger trees;
The further sky, the greater length;
The more the storm, the more the strength.
By sun and cold, by rain and snow,
In trees and men good timbers grow.

Where thickest lies the forest growth,
We find the patriarchs of both.
And they hold counsel with the stars
Whose broken branches show the scars
Of many winds and much of strife.
This is the common law of life.



i carry your heart with me

by e. e. cummings

i carry your heart with me(i carry it in
my heart)i am never without it(anywhere
i go you go,my dear; and whatever is done
by only me is your doing,my darling)

i fear
no fate(for you are my fate,my sweet)i want
no world(for beautiful you are my world,my true)
and it's you are whatever a moon has always meant
and whatever a sun will always sing is you

here is the deepest secret nobody knows
(here is the root of the root and the bud of the bud
and the sky of the sky of a tree called life;which grows
higher than the soul can hope or mind can hide)
and this is the wonder that's keeping the stars apart

i carry your heart(i carry it in my heart)