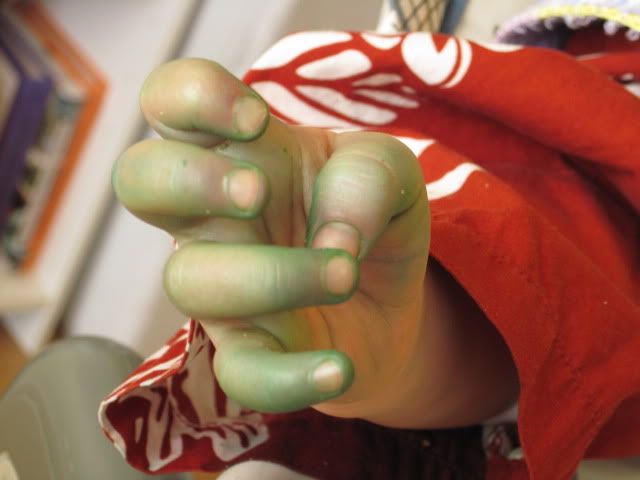 As it often the case around here, this picture has nothing to do with the post. I just like looking at this shot and pretending that I live with a little Hulk-ette, you know?
So, remember when I wrote about the Service Soapbox Baby Shower? The one that will benefit the March of Dimes Teddy Bear Den? The one that will be held this weekend in South Jordan?
Remember that?
Well, I neglected to mention that as part of the festivities, the Service Soapbox Bloggers hosted a writing contest. Anyone was eligible to enter, the only requirement was that the entry be about compassionate service, charity, birth defects, or the March of Dimes.
Having been fortunate enough that I haven't had a whole lot of personal experience with birth defects or the March of Dimes so far, I entered the contest with one of my personal favorites--a post that I wrote about my mother, some compassionate service she provided to one of our neighbors, and how that service has blessed my life ever since. You can read that post
here
if you like.
I didn't think much more about it.
Until today.
I just found out that I'm one of six finalists! How fun is that?
Really really really really fun.
Anyway, if you'd like, you can go
here
, read all six of the final entries, and if you like mine the best, you can go
here
, scroll down about 1/4 of the page and vote in the poll on the left-hand side of the page. You'll know it because it says, "Which post should win the March of Dimes Teddy Bear Den writing contest?"
(I'm serious about only voting for mine if you think it's the best though. I haven't even voted for mine yet, because I haven't read the other five.)
Happy reading!
* * *
I'd write more about our thrilling life here, but honestly, between these six posts, we all have enough to read for now, don't you think? Check back in a day or two (or three), when you may be enthralled with garden stories, mud pies, my views & opinions on reality television, a non-birthday poetry post, a treatise on how the birds in our neighborhood are far too picky for their own good, or any number of other topics.
What could be better?