Sometimes I wonder if I subconsciously live my life in such a way so that my experiences make for perfect blog posts. Especially during Midwinter Musical Madness.
So, Sunday morning, I was going about my business, doing my usual thing, leading the singing with the primary kids. They weren't as in to the whole thing as I wanted them to be, and I told them that I wanted them to sing better on the next song. Specifically, I said something along the lines of:
"Now, you all sang that last song at about a four. I want you to sing this next song at an eight. I mean, I'd love it if you'd sing it at a ten, I'd be so happy if you

did that, that I'd do a little jig right here. But, I'll settle for an eight."


(That might have been a mistake.)
After a little bit of discussion, we went ahead and sang the song. They gave me an effort of about seven and a half. Definitely better than four. I cut my losses and we moved on. One of the kids asked why I wasn't doing a jig. I told him that I would only do a jig if they gave me an effort of ten. He asked if they could try again. I said no. All the kids started groaning and pleading and cajoling me. I said
maybe
they could try again a little later.
(Again, probably a mistake.)
I told them a riveting story of Abraham and Isaac and Jacob and the twelve tribes of Israel, and we learned the fourth verse of the song,
Follow the Prophet.
They did okay. We were running out of time, and so I told them that we were going to sing through the song, all the verses we knew, and that would be it for singing time for the day. The same little boy asked if they could try for the jig again. I cursed inwardly (not really) as I had been hoping that they had forgotten about the jig.
I said okay, but I told them that to get the jig, they were going to have to do a
really
good job, that I wasn't about to make a complete fool of myself for some half-hearted effort on their part. Specifically, I said that every single child had to sing the whole song, and that every single child had had to sing it like they meant it. There could be no arm-folding, or chin-in-the-cupped-handing, or eye-rolling, or yawning, or anything like that. They needed to sing it with all their hearts--the whole (really long) song--all five verses that we had learned.
I told them that I wasn't planning to have to dance, and truthfully, I wasn't. There are a few boys in that group that are waaaay too cool to sing, and there are a few girls who aren't all that excited about singing either. Generally if I can get 75% of the kids following me, I feel pretty good about myself.
We appointed our Primary President (who is even more hard-nosed than I am) to be the judge, and we sang the song.
They were amaaaa-zing.
(Dang-it!)
And that my friends, is how I happened to be doing the Highland Fling earlier this week for the first time in at least twenty-five years.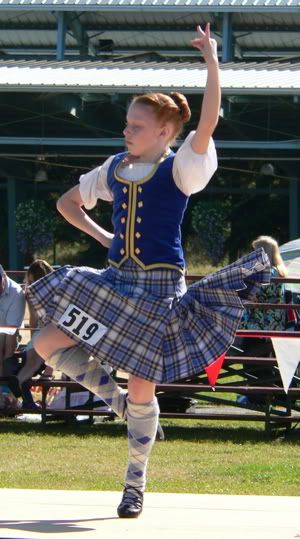 (Those hundreds of dollars in dance class tuition finally paid off, mom. )
* * *
And now-for a bit of Midwinter Musical Madness Business:
As Harmony so eloquently put it, all good things must come to an end, and Midwinter Musical Madness too, must draw to a close. It's okay though, because let's be honest, we'd all rather have spring anyway, right?
So, anyway, we're going to end MMM this year the same way we did last year, with a lightening round. If you're new to MMM this year, or just want a refresher, you can click
here
and read the rules, etc.,
There will be a few more regular musical posts here over the next week or so, and then on Thursday, March 25, from 7:00 a.m. to 7:00 p.m. we will have our lightening round. Shortly after that, I will declare a winner!
Good luck champions!
7 points for the name of the song


5 points for the name of the musical
5 points for giving the name of the song (from the same musical) that I occasionally sing to our daughter at bedtime, primarily because it features her name so prominently


4 points for knowing what age it is (according to this musical) that many girls will try to get married before (I missed it by several years).

Other points awarded by whim