Growing up, both of my parents made a big deal about our birthdays. My mom would let us choose the kind of cake we wanted, flavor and shape, and we could have a friend party every year if we wanted. Now, we could only invite as many friends as we were years old, and our parties weren't as involved as many of the parties are now. There was no theme, no decorations, the guests didn't go home with favors, and there just wasn't a whole lot of fluff that we have today. They were still really fun parties.
We had cake and ice cream, and games, and present opening, and lots of laughter. My mom didn't seem to stress about whether or not the house was immaculate, or whether or not everything was perfect, and maybe partially because of that, she really seemed to enjoy having my friends come over. Having a relaxed and happy mom could only add to the fun of course, and I have great memories of all my birthday parties growing up.
As for my dad, it was important to him that if at all possible, we not cry on our birthday. We could run into trouble and tears the other 364 days of the year, but as far as he was concerned, our birthday should be a tear-free day. That was sometimes a tall order considering that we were six kids born within twelve years of each other, all living in the same house and all vying for (more than) our share of the attention pretty much 24/7/365, others' birthdays notwithstanding.
Basically, both my parents were great about birthdays. When it comes to my childhood memories of my birthdays, I count myself a lucky lucky girl.
As you'll remember, I ran track in High School. As you will also remember, mid-March is prime interval time for High School Track & Field training. Your memory will also tell you that
intervals are agony
, pure unadulterated agony.
My father was my track & field coach.
I held back tears every time I did an interval workout.
My birthday is March 13.
You see the problem, don't you?
My dad and I had several March negotiations, and the bulk of them had to do with what kind of workout we'd be doing on March 13 each year. Sometimes I'd be a good sport, and realize that dad had to weigh what was best for the team against what would make his daughter the most happy. Most of the time I wouldn't be a good sport, and my poor agonized father would have to choose between what he wanted/needed to do as a coach and what he wanted (desperately) to do as a father. I feel badly about that now. It was stressful for him, all the more so because I was a (typical) self-centered teenager who didn't realize that the world didn't revolve around her.
Sorry about that, dad.
Anyway, the point of all of this is to essentially say that it was my birthday eariler this month. I had a lovely day. I played with Heather in the morning, went to Wal-Mart all by myself in the afternoon (where I bought myself a salad spinner, a pastry blender, and two Percy Jackson books), and Eric and I went to
the fanciest restaurant
in Logan in the evening while Heather played with her grandparents. It was glorious. I spent the few days before conning Eric into shoulder rubs and garbage runs and dirty diaper changes all in the name of my birthday, and I'm planning to continue along this same track for at least the rest of the month.
It's times like these that I think of my dad. How much he must miss me living in his home . . .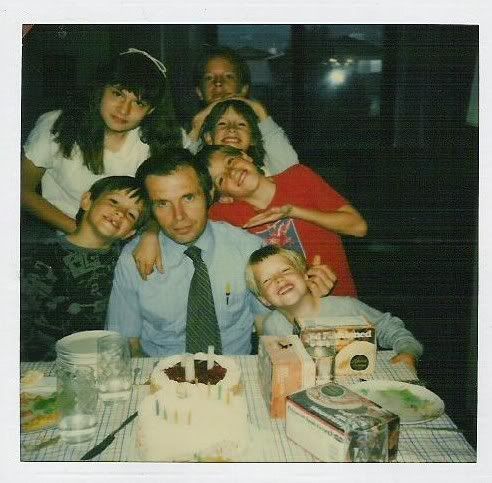 (Yes, that is a shoelace in my hair. It was the 80's)
And how glad he must be to have handed over his birthday care duties.
Poor poor Eric.
(My dad looks less than thrilled in the photo because he is about to perform his most dreaded fatherly chore--scooping out ice cream for the children. Every time we had ice cream, my dad had to endure all of us comparing our portion to the portion of our siblings. Since it was humanly impossible to get all the servings exactly equal, there were ALWAYS complaints and whining about our respective servings. Super stressful for my dad. Years later he told me that that Sunday ice cream scooping was the most stressful part of his week. This is a man who at the time was performing medical surgeries at least once a week. Who knew?)
This is a tough one, so I'll give you a few hints:
The musical is based on the memoirs of a striptease artist from the burlesque era
Natalie Wood (of West Side Story fame) played the title role in the movie version of this musical
The name of the song is the name of the stuffed animal to which the song is sung
Okay--that's all you get!
10 points for the name of the song
5 points for the name of the musical
3 points for the name of the character who sings the song
other points awarded by whim