Not all that long after I started counting Phil Kelser as a friend, we made
a deal
. I would crochet him an afghan, and he would paint me a picture.
It was a pretty sweet deal,
especially for me
.
I let Phil choose his yarn, (which he did with the assistance of his future-wife, Heidi), and Phil let me choose the primary subject of the painting, which I did by myself
(my future husband wouldn't be bursting on the scene of my life for another eight or nine years, which is probably a good thing, since he almost surely would have persuaded me to choose a robot as my primary subject, and what kind of a picture would

that

have made?)
. Phil (& Heidi) chose burgandy, blue, and gray, and I chose my favorite of all everyday objects, the bright, cheery, yellow umbrella.
Sometime later, I completed the afghan, and some time after that, Phil presented me with his (which then became
my
) original artwork.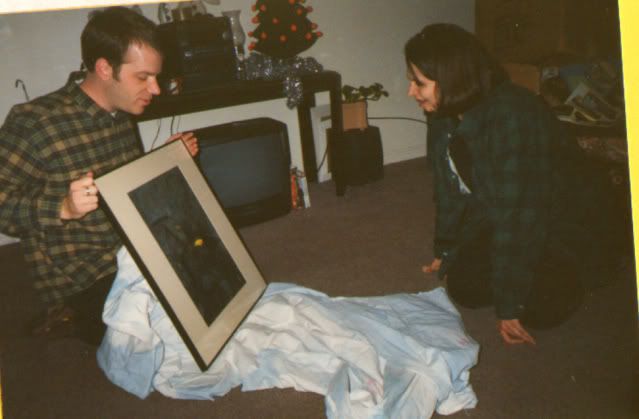 (yeah, we were both a lot younger back then)
(and we both liked plaid flannel shirts, apparently)
I loved the painting immediately, and still do. It's a scene of a dark and rainy street corner, brightened by the happiness and brightness of that cheery yellow umbrella.
As Phil was explaining to me and my roommates some of the details that he'd included in the artwork, he pointed out in particular one man traveling along the street. The man was at the forefront of the picture, facing us, and his position was such that he looked like he had passed the umbrella within the previous 30 seconds or so. His face was dark, as was the night, as was the corner, but Phil had colored a light in his eyes, a light that was essentially the same bright, hopeful hue as the umbrella.
Phil explained his decision there, saying,
"I wanted to show that the light and warmth stayed with him, even after he had moved on."
Those eyes have always been my favorite aspect of the picture.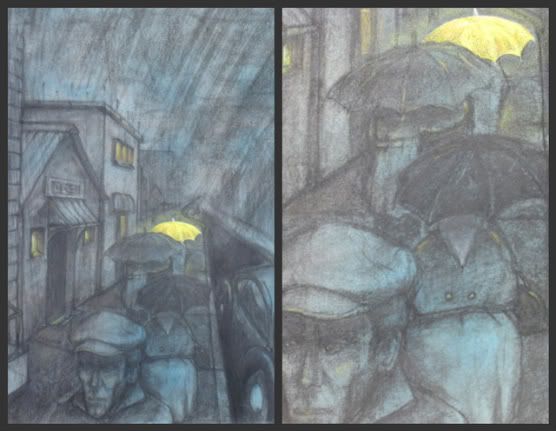 Over the past few days I've looked at that painting and thought about those eyes more times than I can really count.
I like to think (and firmly believe) that the light and warmth (and truth and love) that Phil experienced while he was here has stayed with him, even now that he's moved on.
I

know

that some of his light and warmth has stayed with me.