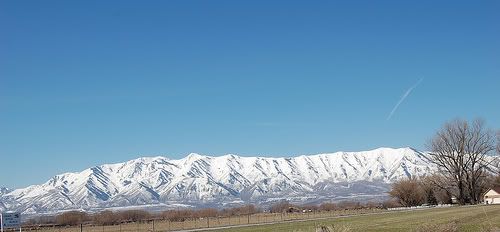 Saturday I attended and sang in a septet at the funeral for Phillip Kesler.
It turned out to be one of those experiences that I'm going to keep in my
jewel box of memories
.
We sang an arrangement of
"Come, Thou Fount of Every Blessing".
It's a beautiful arrangement (and you can listen to some other people singing it
here
), one that I learned as a solo back when my younger brother
(who is now married and has nearly four children)
was just returning from his LDS mission to Austria. Later I sang it as the encore for a recital I did. Still later, I sang it with three other women as a special musical number in the ward we attended together. Even later than that, I sang it with my brother
(the same one I learned it for in the first place)
as one of our cousins was preparing to serve an LDS mission in Spain.
I wouldn't write all this, but I want to point out that I've had a few experiences, all of them good, in singing this song. However, I've never felt the need to write about any of those experiences before. That all changed on Saturday.
I don't always do well when I sing at funerals. That's because I'm a crier. I don't cry at movies or television commercials, or books so much (unless I'm pregnant), but I definitely cry over events and thoughts and memories that are particularly meaningful or poignant to me. Singing often intensifies those feelings, and so as much as I love it, and wouldn't change it, there are times when all those factors come together in a recipe for singing disaster
(my grandmother's funeral, as well as my own wedding reception come to mind, but those are stories for another day).
Because of all this, by the time I was standing with those women to sing our song, I'd been praying for nearly a week for strength and peace of mind, and just the right amount of comfort that would help me to feel calm and controlled, but not so much that would push me over the edge into feeling emotional.
Not all my prayers are answered in exactly the way that I want them to be answered, but this one absolutely was, and more.
The song went well. The seven of us blended really well, and as we were singing, I felt a great sense of comfort and peace. That was enough for me, and I was so grateful for it. But then, a couple of little miracles happened.
There's a part of the song, near the end, where the altos take the melody, and the sopranos (me) sing several "Alleluias", in a near musical echo of the melody that the altos have just sung. It's always been one of my favorite parts of the song, and one that I kind of look forward to. This time, as we got to that "Alleluia" section, I felt an upsurge of peace and calm in my heart, and something that I wasn't expecting to feel--
JOY.

I felt absolute joy, and lightness, and happiness, and a real sense that all was well, that God was watching over us all, and
especially
and
intently
watching over those who were the most affected by Phil's passing.
And, in an ultra-rare occurrence in the body and mind of Charlotte (Julien) Corry Cantwell, that feeling of joy did
not
manifest itself in tears.
In fact, if you knew me from my side of my eyes, you'd count all of that as a miracle.
You'd better believe that I do.
[image (of our beloved Wellsville Mountains) can be found here.]