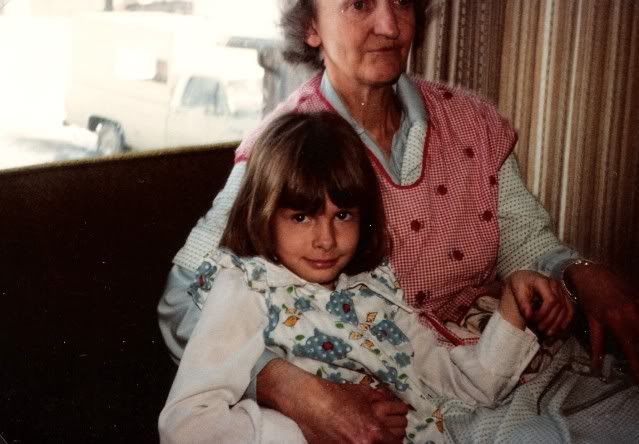 me and my grandma--obviously in the 1970s
I made bread today. As I was cutting the heel off the loaf off and spreading a (thinner-than-used-to-be-the-case) layer of butter over it I was reminded, as usual, of my grandmother.
Specifically, I was reminded of a time, during what turned out to be the last year of her life, when I was visiting her home. She was a widow then, and it was just her and me there at the home that night. It was evening time, probably around 8:00 or so. I had just gotten into town and made my way to her home, where I was going to be spending the night.
Grandma had just made bread, and after I had settled my things in the north room* and come downstairs to the kitchen, she offered me the heel of a freshly made loaf, implying that she had saved it for me because it was the best part.
For me, the heel
wasn't
the best part of the loaf, and I demurred, telling her that I couldn't deprive her of the luxury. As I poured us each a glass of milk, grandma cut two slices of bread, and again offered me the heel, with an inviting smile, and the words, "Really, I'd like you to have it this time."
Not wanting to be ungrateful, I took the heel, thanked her, and we ate our bread together.
It was delicious.
These days?
The heel is my favorite as well.
*It actually might have been the east room. I only know my directions in Cache Valley and Cedar City, and so I was always confused when my grandparents would refer to their (Salt Lake City) upstairs bedrooms by using the signs of the compass. Usually I would just nod, and then later ask my mother which room they were talking about--the old girls bedroom, the old boys bedroom, or the bedroom with the refrigerator in it.