Sometimes I wonder if I was adopted.
Not really though. I mean, I worry like my father, sing like my mother, rotate my clothes like my grandfather, and sometimes am mistaken for my sister.
So much for that theory.
When I most wonder though, is when I'm in my mother's sewing room.
When I was little, my mom had a sewing closet, and I mean that in the most literal sense of the word. It was like one of those closets with the folding doors that you see in bedrooms that don't have a walk-in closet. She had a table that went the width of the closet, and then on either side she had shelves, full of material.
Then a few years went by . . .
At some point, one of the upstairs bedrooms was converted into her sewing room, and what was the sewing closet became the computer closet.
A few more years went by . . .
After my mom and dad had successfully gotten rid of a few of us kids, they took a wall out upstairs and what had once been the sewing room and the baby room became one big sewing room, complete with walls and walls of cabinets and shelves for fabric, a television and VCR/DVD player, an in-the-wall ironing board, and two sewing machines, always ready to be pressed into service.
Honestly though, if anyone deserves or can make good use out of a well-stocked sewing room, it's my mom. She's sewed everything for me from my baby clothes to my prom dresses to curtains for my first house to my bridal veil to baby clothes for my daughter. When they were first married, she made my dad a suit. Halloween costumes? Don't even get me started.
Lately (as in, over the past five or so years), she's really been into quilting. She makes I Spy quilts and Christmas quilts, and quilts for the LDS Humanitarian projects, and quilts for babies, and quilts for anyone and anything.
Which brings us to the point of this whole post . . .
My mother gave birth to two daughters. Her first daughter (me) tried to learn to sew for several years, and (as has been chronicled a bit in this blog) has given up.
Her second daughter has been more intrepid and more successful in this area, and has quite a few Halloween costumes, and I believe even a few quilts to her credit.
However,
when my second oldest brother married his wife, my mother got the sewing daughter that she hadn't been able to receive genetically. Melissa is a sewer, and even more, Melissa is a quilter.
Is she ever!
And now, for the first time ever, you can share in Melissa's talent. For, following my stellar example, Melissa has opened up an etsy shop, and stocked it with her own I Spy quilt kits! Just think! You won't need to spend hours and hours poring over fabric looking for just the right squares. You won't need to spend hours and hours cutting little six inch squares to make your quilt. You
will
need to spend a few hours putting it all together, but really, that just makes it worth all the more to you, right?
Right.
Are you wondering where you can see these little kits of to-be-quilted goodness? I know you are!
Well, wait no further!
Click here:
melissacorry.etsy.com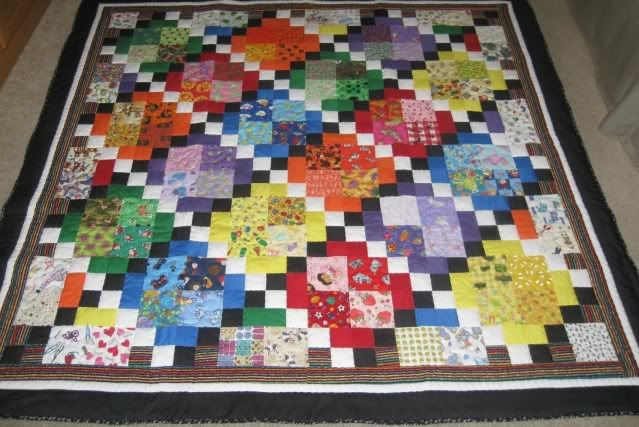 and quilt away!