A few days ago, I was indulging in a rare treat, and sitting in the living room, back up against the couch, listening to Christmas music on the CD player, and becoming nearly totally immersed in
this book
.
Heather roamed around the downstairs, realizing pretty quickly that rather than try to get my attention by crawling in my lap,
this
would be an ideal time to get into the pots and pans, the cupboard under the sink, the Christmas presents under the tree, and the tuna cans in the pantry, all of which she did with reckless abandon and without hearing anything more than a half-hearted "Heather, I wish you wouldn't do that" from her distracted mother.
But all good things must come to an end, and so, with about 80 pages left in the book, I resigned myself to my maternal duties, changed a rather fragrant diaper, put Her Little Highness down for her nap, and set about straightening up the tornado rooms that my inattentiveness had allowed.
(It was soooo worth it)
.
As I was picking things up, I noticed something kind of fun. I had recently received a package of about six books that I had ordered off of half.com, which (for those of you who don't know) is a really great place to find cheap books, especially if you don't mind not being the first owner of said books. One of the books was "
A Purpose Driven Life
" by Rick Warren. In her adventuring, Heather had found this book on the stairs (where it was waiting to get a ride up to the bookshelves in our bedroom), taken off the dust jacket, and carried it around for awhile before depositing it unceremoniously on the floor. As she did that two ticket stubs fell out of the pages. Two ticket stubs that I found as I was cleaning the room.
The tickets are dated Thursday, October 28, 2004, and are for a performance that was part of the Grand Opening Festival of the Frederick P. Rose Hall on Broadway and 60th Street in New York City. The name of the show was
Let Freedom Swing
, and the seats were on the right Mezzanine, Row BX14, seats 3 & 4. They cost $85 each, and it looks like they were paid for with a Visa.
It was a fun little treat to see those tickets. I was taken back to the few times I've been in New York City, the shows I've seen there, the experiences I've had there, the memories I've made there.
How I ice-skated with Heidi in Rockefeller Center, passing that big golden statue again and again as we whirled around in circles in our rented skates and Utah-purchased black coats.

How I went to church one Sunday morning, while Tayneshia and some of her friends went off in search of knock-off designer purses. After the meetings I went to a park across the street from the church building and called my boyfriend (his name was Eric Cantwell) to tell him that I missed him. Only I hadn't taken into account the time difference between New York and Cache Valley, and I caught him right as he was in the middle of a meeting with the leadership of our singles ward. We both got a fair amount of teasing over all of that.
How Jeri and I saw

Les Miserables

on Broadway when we were nannies, and we wanted to get a picture of us under the Broadway sign, and so we asked someone to take one for us, but they obviously didn't understand what the purpose of the picture was, because when the film was developed, we had a great picture of the two of us, standing next to a signpost, but the sign was cut off.
And then, after I'd relived as many memories as I was inclined to do, I started thinking about the people who had those tickets. Had they gone early, and taken the book along with them so they'd have something to read while they passed the time? Were they young and in love? Were they old and satisfied with their lives? Were they mother and daughter? Were they two nannies, enjoying a rare and expensive show as a present from their employers?
I'll never know. Kind of fun to think about though, huh?
And that's what I have for today.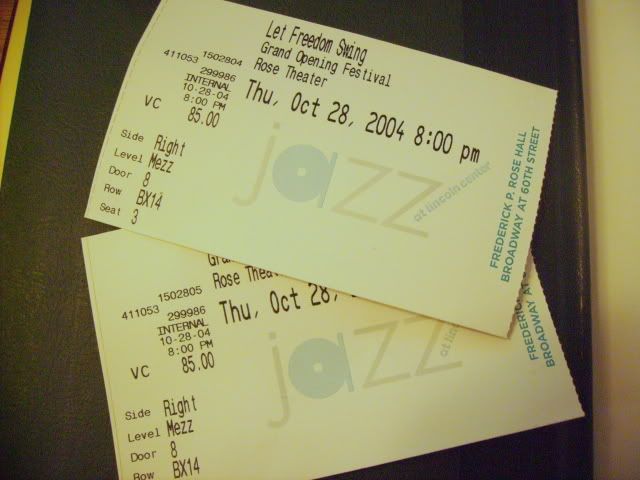 Happy Thursday,