My school-teaching, hopeful-authoring, mother-of-three-kids-ing cousin has been on
a quest
to cook and serve easy and healthy meals to her family.
I made this yesterday at 4:00, when I remembered that:
I didn't have anything for dinner
we overspent our grocery budget last month
we had a Ziploc bag halfway full of turkey in our fridge (thanks, mom)
my mom had made a similar meal the day after Thanksgiving and it was delicious.
We ate it last night with a few slices of the homemade bread that I'd made the day before (recipe
here
), and it was mmm, mmm, deee-licious.
(Well, Eric and I ate it. Her Little Highness pushed pieces of turkey, beans and corn around on her high chair tray until overcome with boredom (two minutes later), she started dropping them on the floor. At that point I took over and attempted to force some of it into her mouth, which (as usual) didn't go well. So, we resorted to the old standby of cheddar cheese squares, cheerios, and half of a jar of Gerber strained squash.)
I was going to just e-mail the recipe to Tasha, but I thought some of you might like it too. So, here you go:
Leftover Thanksgiving Turkey Soup (Crock Pot friendly)
-Barbara Corry, modified by me
Cooked Turkey Meat (however many leftover pieces you want to use (cooked chicken would probably work just fine here as well))
1 can corn (drained)
1 can green beans (drained)
1 can cream of chicken soup
1-2 cups chicken or turkey broth (I just used water and chicken bouillon cubes)
1 small can mushrooms (drained)
1 bay leaf
Put the broth and chicken soup in the crock pot and whisk until not lumpy. Add all the other ingredients and cook on high for one to two hours (or low for as many hours as you want). (can also be made on the stovetop, just don't cook it so long.)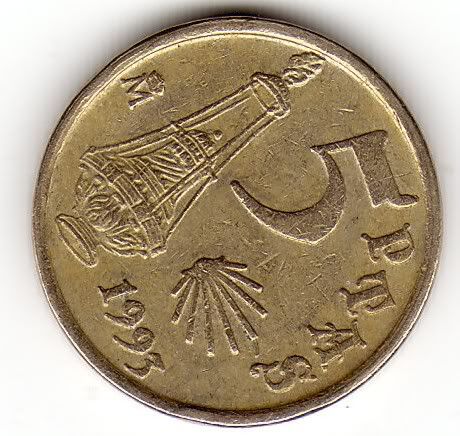 The picture has nothing to do with this post, but when I couldn't find any turkey soup pictures that I liked at wikimedia commons, I clicked on the "random image" link, and after three tries, this is what came up. I thought it was kind of fun, so here it is.
(Hey, no complaining. We get what we get, and we don't throw a fit!)

You can see this image for yourself, and find out all kinds of interesting details about it
here
.