This is another snippet of an entry, devoid of factoids regarding most of the events of our lives, but rich in detail about one specific area of our existence.
Shoes.



I love these shoes (slippers, really).
I received them as a result of an etsy trade that I made a few weeks ago. Heather now has two pairs. My original plan was to give one pair as a Christmas gift, but I've decided that I just can't part with either. (Sorry Kamryn. Sorry Hannah.)

They're cute, they're sturdy, and best of all . . .


Heather hasn't figured out how to take them off!!

I know that the vast majority of you who read this blog either:

1) don't have kids yet
or
2) have kids that are anywhere from one to twenty-two years older than my Heather.

So, most of you aren't really in the market for some awesome infant/toddler shoes. However, if you find that you are, you can get more details, and even buy these little treasures here.

Oh, and just in case you are wondering, this is NOT a paid advertisement or a sponsored post in any way. I honestly love these shoes, and I post this purely in the interest of sharing something good that I've been lucky enough to find.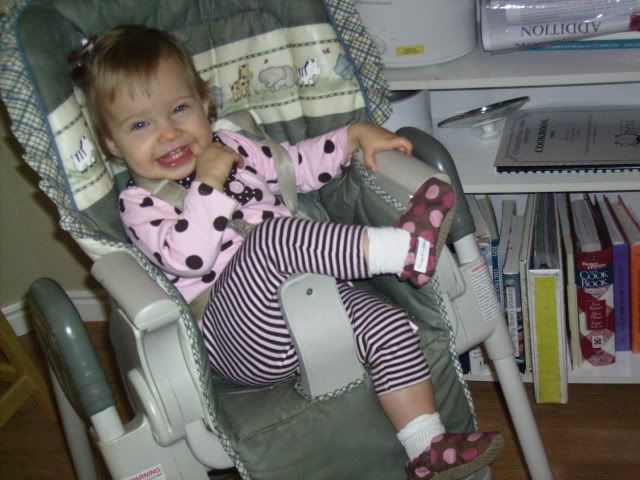 (Her Little Highness likes them too.)





And now, a note about all the etsy references that I've been including here lately:

Remember when I wrote that this was not going to turn into an etsy blog?

The thing is, etsy-ing has kind of turned into my new hobby (the wasp trap stopped being interesting weeks ago), and I have to admit that I've really been enjoying it. I've had fun setting up my shop, learning the ropes of marketing the things there, getting to know other etsy-ers, trading for fun stuff, and even making an actual cash sale from time to time.

However, since this blog essentially chronicles the activities and details of my life from day to day, I've found that the word "etsy" has made its way into more of my posts than I had originally planned.

Which brings us to my question to you: As one of the thirty people that check in here from time to time, how do you feel about that? Do you feel spammed? Do you feel commercialized?

Do you feel pressure to buy hand-crocheted hats for everyone you know?





Do you miss the quirky days of yore?



If you do, let me know, and I'll see what I can do.




(But don't get cocky. If you think that just because I'm asking your opinion now it means that you'll eventually be able to weigh in on on the amount of Heather pictures get posted here in the future? )

(Well, you've got another thing coming.)