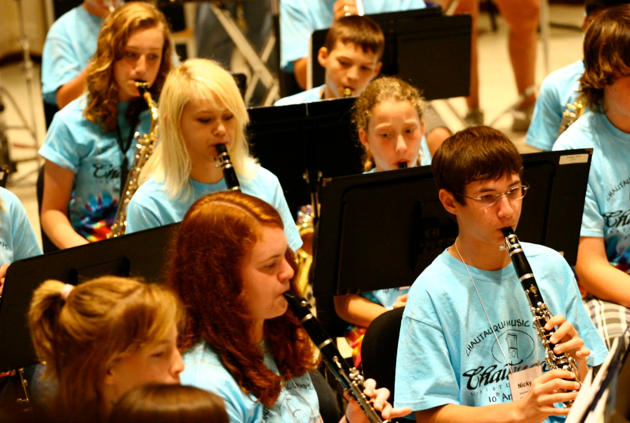 When he was young, my father played the trombone.
My mother played the flute.
So, of course, it was only natural that when I got old enough, I would play a band instrument. Actually, growing up, it never occurred to me that I wouldn't play an instrument. It's not that my parents pushed it or anything. I've actually never seen my father with a trombone in his hand. It's just something that I assumed would happen. Actually, I assumed that ALL people learned how to play an instrument, and I remember being quite surprised when I learned that this wasn't the case.
I chose to play the clarinet. We had a book in our house called
Would you Rather be a Bullfrog?
by Dr. Seuss. In it, there was a page with a picture of a clarinet, and the question, "
Would you rather be a clarinet, a trombone, or a drum? (How would you like to have someone going BOOM BOOM on your tum?).
I remember turning to that page often, and knowing that THIS was what I wanted to play.
And so it was that when I was registering for the sixth grade, I signed up for beginning band. I spent the next three years learning how to play the clarinet in the windowless middle school band room, tapping my foot, and watching Mr. Larry Wright in his rainbow suspenders as he tried to keep me and about forty-nine other young aspiring musicians on the same beat at the same time, and playing some semblance of the right notes.
I've thought about Mr. Wright quite a bit over the years. The thing is, there are people who appreciate good music, and there are people who appreciate other things. There are people who can hear a well-trained singer, violinist, flautist, or any other musician, and feel the beauty of that music all throughout their soul, and there are people who can't really tell the difference between a world-class musician and a run-of-the-mill musician.
I never asked Mr. Wright, but I'm just guessing that he was one of those who felt the beauty of well-performed music in his soul.
And yet, he spent hours and hours every day for years and years hearing music that was anything but well-performed. Squeaks and shrills, missed notes, and so many other imperfections filled his ears day after day after day. Then, just as some of his musicians were getting good, he would send them off to high school and start with a brand new crop of novices.
I'm sure there were rewards--the thrill of teaching a particularly gifted student, the joy of having the band get it right after having them get it terribly terribly wrong for several weeks, little joys along those lines. And let's not forget that huge paycheck that all public school teachers take home every month.
But, the fact remains that Mr. Wright chose to spend his days surrounded by beginner band music, all the while knowing what good music really was. If that's not a heroic sacrifice, I don't know what is.
Mr. Wright passed away several years ago. I never told him thank you, and I regret that now. I'm not a great clarinetist or anything like that. I actually haven't touched my clarinet in at least fifteen years, and my niece uses it now in her middle school band.
However, one of my childhood goals was to learn how to play the clarinet, and Mr. Wright made that possible for me.
That makes me feel like one lucky lucky girl.