When I picture myself in my mind, I'm prettier than this. I take solace in the knowledge that at least I'm getting my hair cut on Monday.
Oh-and I didn't make these cakes. Camille did. Nice, huh?

I posted a long sentimental entry over at
the private Heather blog
, full of the intricate details of Heather's birthday, and how I felt about it all, and how wonderful it all was.
I'll spare you that over here, and just post a few pictures, with the statement that it was a great, great day. Thank you all for your good wishes.
(Watching Heather go at her own little birthday cake? Awesome!)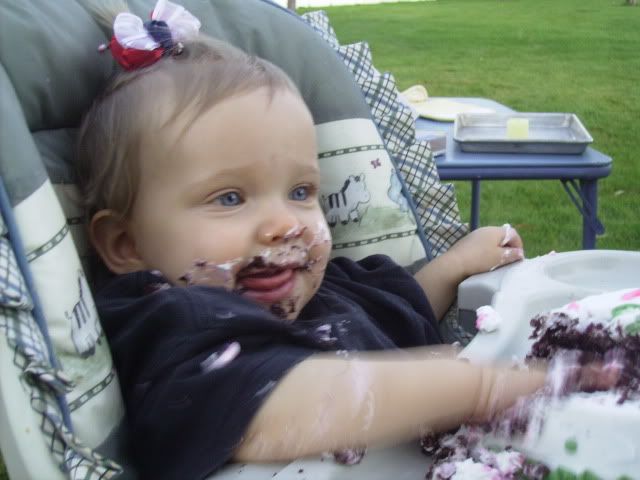 And now we're on to other things. Our ward primary program is on Sunday. Two weeks ago, I gave the kids a big pep talk about practicing and praying, and asked them to do a bunch of both as we prepare for the big day. Then I promptly went out of town the next weekend (to sing at
that baptism
, you know). So, I guess I'll soon find out how effective my pep talk turned out to be.
I'm not all that worried though. The kids know the songs, and even though they'll get nervous and spend much of their time up there waving an winking at their parents, it will all work out. It always does, you know.
And with that, I leave you. Have a great weekend,