This is a long post, full of pictures of people that you may or may not know.
Consider yourself warned
.
Last weekend, Eric and Heather and I traveled down to Salt Lake, and eventually Manti
(a very small town quite close to the the middle of nowhere, which also happens to have what I think is probably the most beautiful LDS temple interior on earth.)
to attend the wedding festivities of my cousin,
Emily
.
We had a great great great time.
To be honest
(and I hesitate to say this, since I know that Emily and many of our other shared relatives read this blog)
, neither Eric nor I was looking forward to the trip with a whole lot of enthusiasm. Eric actually asked me at least four times if I would rather just go down by myself. (I said no, at least four times).
It's not that we don't love Emily. We do. It's not that we don't love seeing family. We do. It IS that Eric is happiest when he is home, puttering around, working on projects, doing his thing. As for me, I very much enjoy getting away, but now that we have little Heather, picking up and going isn't as easy as it once was, and since I'd been road-tripping with Heather the previous two weekends, I wasn't all that keen on going for another jaunt.
How glad I am that we went though. It was a glorious weekend, one that recharged us both.
And now I'll post some pictures, with some of my trademark rambling explanations. Perhaps then you'll be able to understand why it was such a great time. (Or, perhaps not. I make no promises here.)
(Also, in the interest of full disclosure, I should note that I didn't take all these pictures. Some of them I lifted straight from my Uncle Warren's smugmug site. He actually didn't take the pictures either, but that's another story.)
(Goodness, we started with the rambling explanations right off the bat, huh?)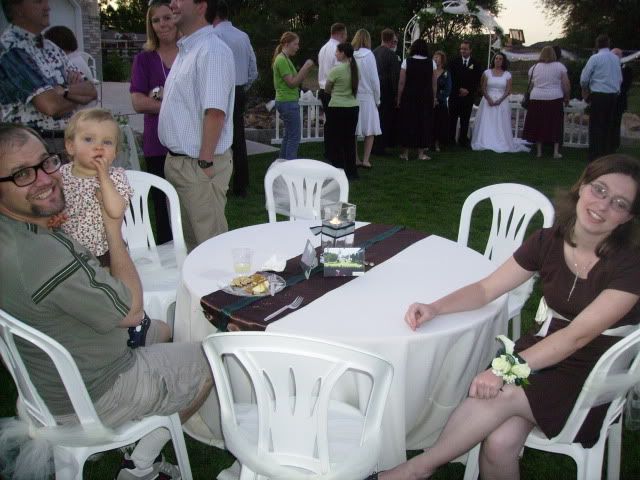 Here is Eric and Heather at the reception, along with Emily's sister Elizabeth. Notice Eric's very casual shorts. Not really reception attire. We had a little miscommunication (for a change), and Eric didn't realize that we'd be going straight from Logan to the reception, without stopping to change first. I offered to guard the car and protect his modesty as he changed inside, but surprisingly, he chose not to go that route. Oh well. Still a pretty handsome guy, No?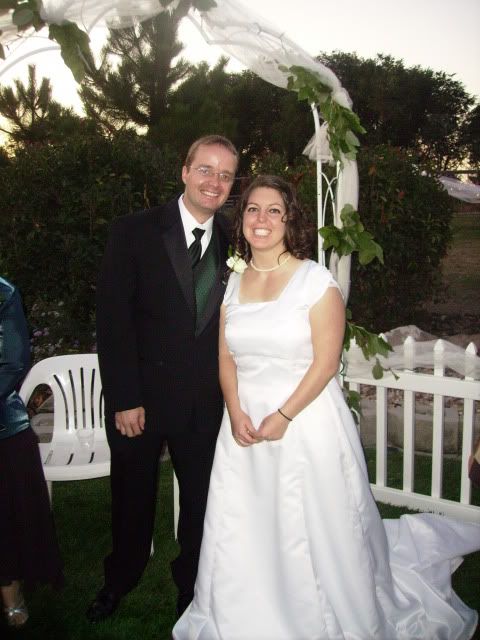 the happy couple
After the reception, we drove to my brother's home, where we spent another hour or two laughing at stories that he and his wife told us about their three girls. Of particular interest was the tale of when they took the girls (ages 6,4, and nearly 2) in to get flu shots all at the same time. Oh the drama! I laughed so hard at that one that I cried.
The next morning we arose, ate waffles that were so good that Eric (later) made me e-mail Krista for the recipe, and then we hit the road.


The drive over to Manti was (quite obviously) gorgeous in places.
There were moments when we (I) worried that we wouldn't make it in time, but thanks to the adept driving of Eric and my father, we arrived with ample moments to spare.
We left Heather in the capable hands of
Rebecca
, Elizabeth, and John, and made our way into the temple for what was a beautiful sealing.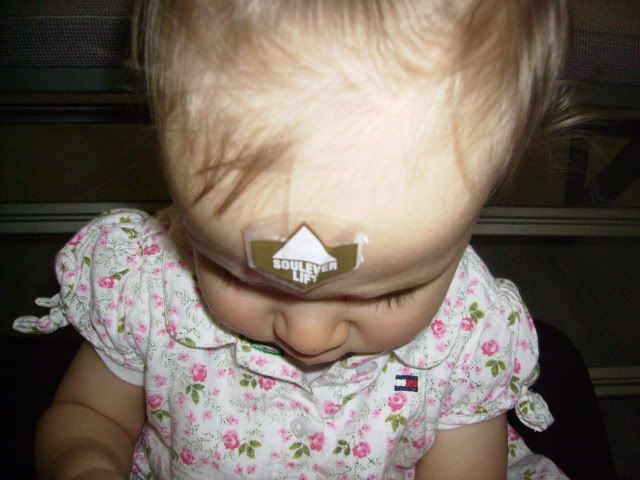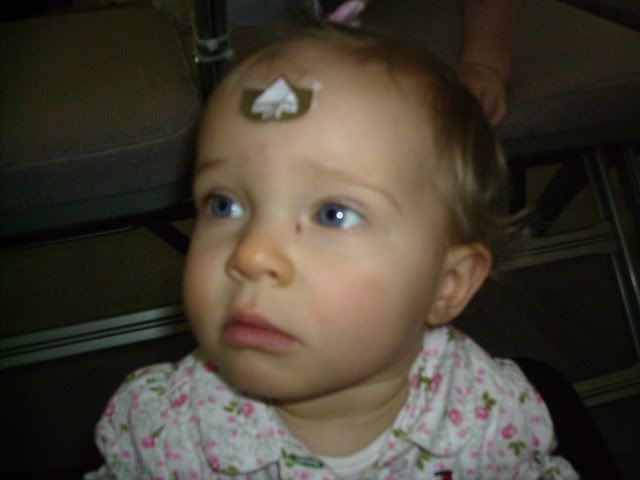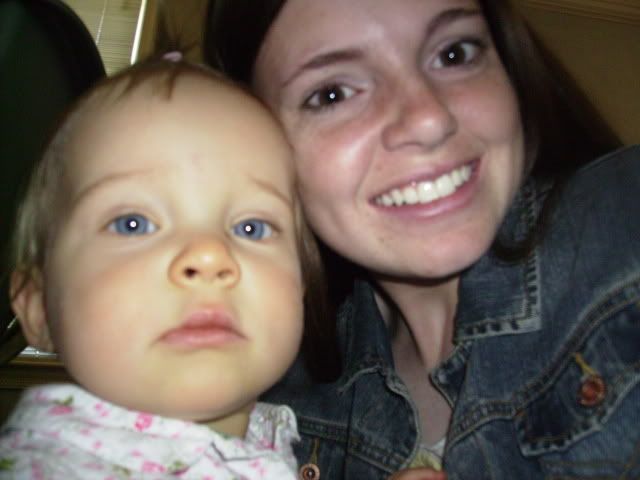 Judging from the surprise pictures that I found on my camera, It appears that Heather was able to have a few unique experiences, and a good time was had by all. (Thanks guys!)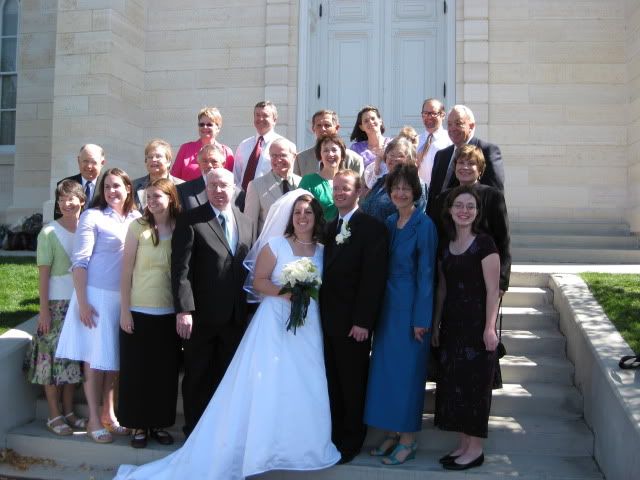 After the sealing, we had the obligatory picture session,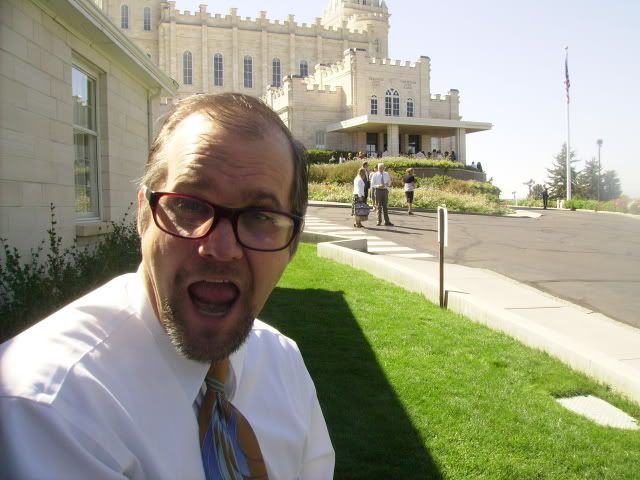 as well as a session that was not so obligatory.
Then it was off to the (delicious) wedding luncheon.
As we waited for the bride and groom to arrive, my mother played "show-and-tell" with some of her latest projects--a bunch of really fun and wildly colorful quilts. We're actually in the process of investigating whether or not she can sell these in my etsy shop, or if she'll have to get a shop of her own (
which, let's be real--that's not going to happen
). This particular event resulted in Eric saying my favorite quote of the whole weekend.
As all the aunts and female cousins rushed over to ooooh and ahhhh over the quilt tops, Eric turned to me and my Uncle David (Farnsworth), and with a twinkle in his eye, said,
"You know, there's just

nothing

as exciting as a good quilt."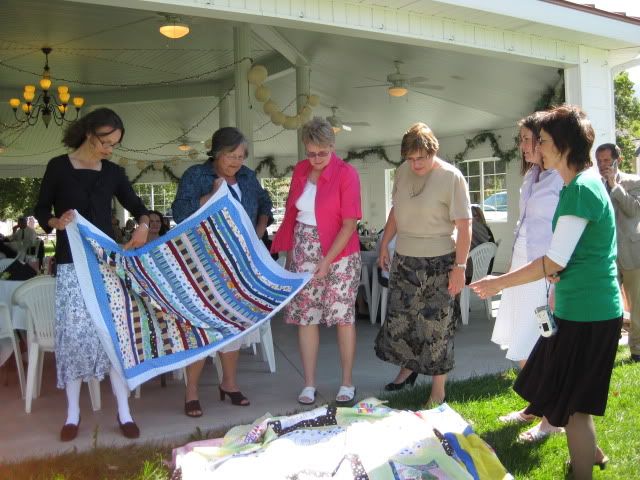 Obviously.

And that friends, concludes this photo essay. However, if your initials are L.J.W.H., and you were unable to attend this wedding through no fault of your own, and if you happened to feed your niece as often as was humanly possible when she was a poor starving missionary in your city, please read on. As a special postscript, I've posted three other pictures that I took, especially for you.