Eric and I haven't been on a vacation since May of 2008. Oh, we've been to
several
family reunions, and we've taken day trips to Salt Lake City, and weekend trips to Cedar City, and we've had lazy Saturdays at home,
and heaven knows we wouldn't trade our Heather or the joyous life we live now for all the vacations in the world.
Still, the fact remains that we haven't been on a real vacation in over a year.
For a girl who visited to Bangkok, Paris, San Diego, Houston, Calgary, St. Petersburg
(Russia, not Florida),
Orlando, Anaheim, The Grand Canyon, Barcelona, The Bahamas, New York City (three times), Madrid, New Orleans, The Great Smoky Mountains, Philadelphia, and Rome all within in the space of five to six years, this is a bit of a down-shift.
Some days, when I find myself missing my globe trotting days, I play a little game. I call it "pretend I don't live here".
Saturday morning, Heather and Eric and I played "pretend we're vacationing in a three-bedroom townhome in Cache Valley during the lovely fall season". Eric played by sleeping in, taking advantage of the quiet and stillness of the home, while Heather and I played by eating a quick breakfast, leaving a note asking Eric to vacuum the downstairs
(so much for his vacation)
, and heading to the Gardener's Market for some great food, great ambiance, fun music, and superb people watching.
We strolled down here,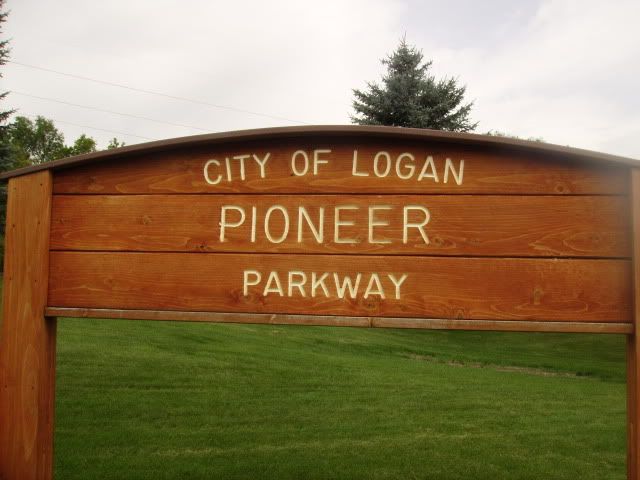 where we sampled more than our share of cheese and bread and salsa and blackberries.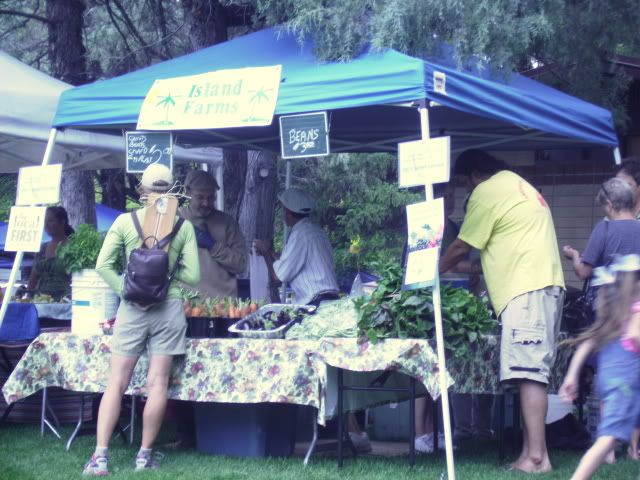 After we'd made one pass through all the booths, and run into an old friend
(Heidi-it was the red-haired girl who used to manage those apartments that we lived in. Wasn't her name Carey? I spent the whole time we were taking trying to remember her name. She asked about you, by the way.)
, We settled down on the grass in front of "the Gypses" (no, I did not spell that wrong) a local band. They were quite good, and the music they played had a definite beat to it.
Oh, how Heather and I love a good beat.

Heather made a new friend,
did some much-needed maintenance on her ride,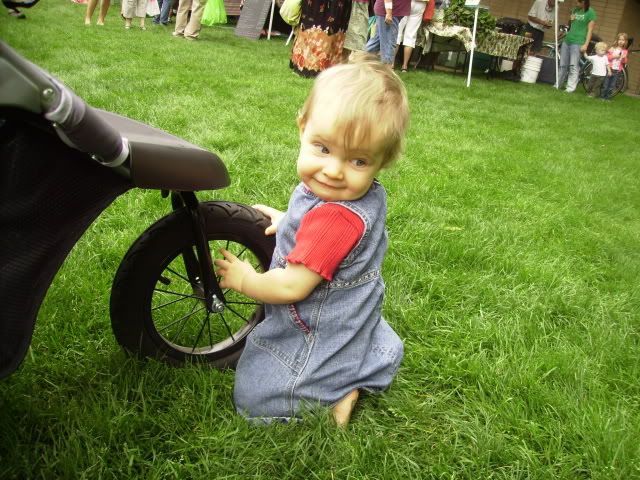 and was overjoyed at the local flora available.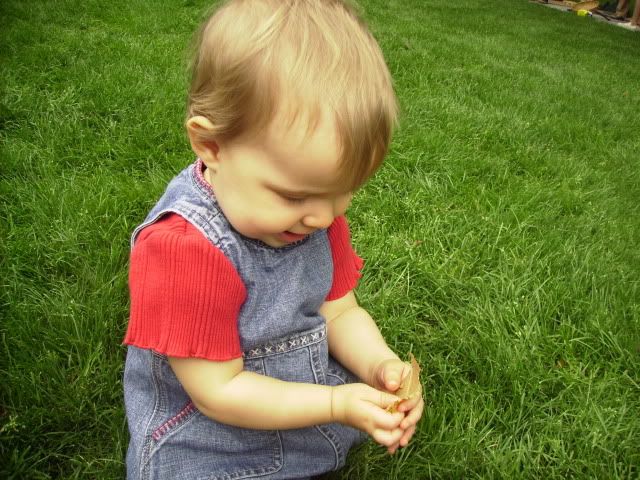 I alternated between dancing with Heather, trying to deter Heather from eating leaves, and people watching.
Oh, the people watching!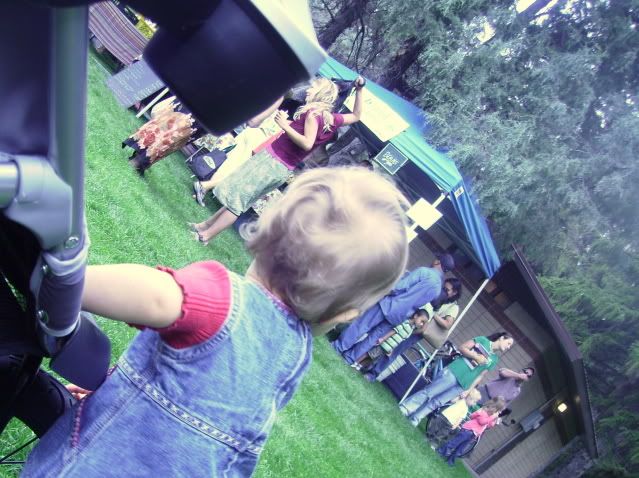 (I can't for the life of me figure out what that blond lady is doing. Showing off her muscles? Hoisting her vegetables in some kind of enviro-friendly arm-lift?)
After we'd had our fill of the awesome beat, we tipped the band, (because it was the right thing to do, and since we were on vacation, we weren't as concerned about money as we sometimes are) and took our second lap around the market, this time looking to make a few purchases.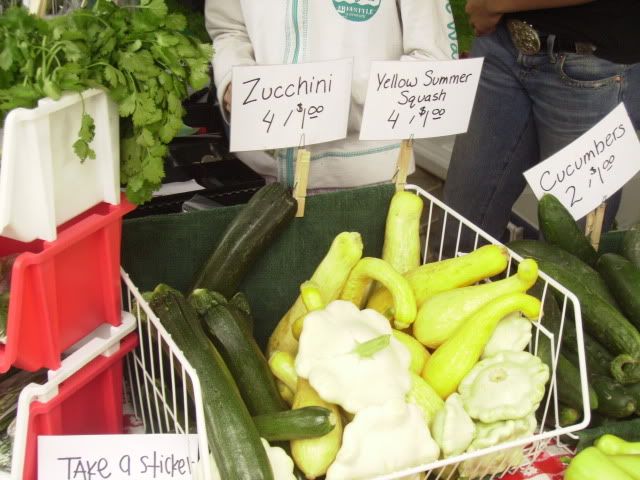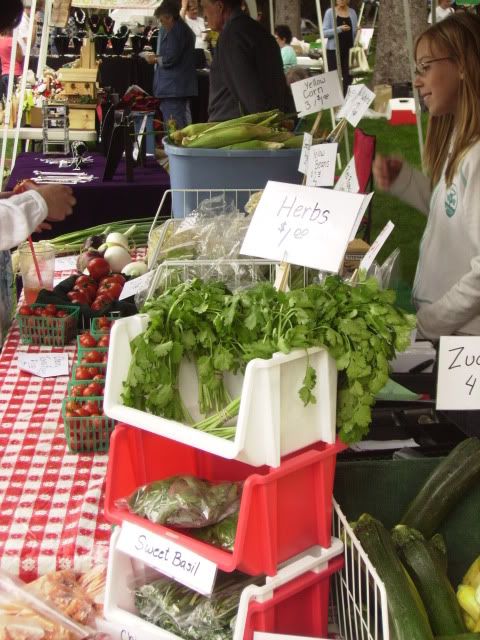 We bought summer squash and corn from the Johnson Family Farm,
And flowers for me, and blackberries for Eric.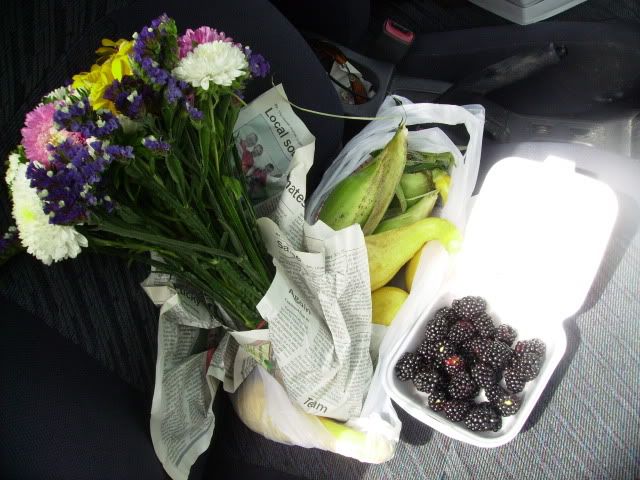 We happened to run into
my cousin and his wife
, as well as one of my former roommates and her newborn son. We also had a really nice conversation with a couple who just had to turn around and meet our Heather (since she was singing and babbling as loudly as her little lungs would allow).


Then it was naptime, so we came off vacation, and went home to our newly vacuumed abode.



A glorious morning.


(Under the heading of "coming attractions", I think I've got Eric convinced to take us all down to "
Peach Days
" in about two weeks. )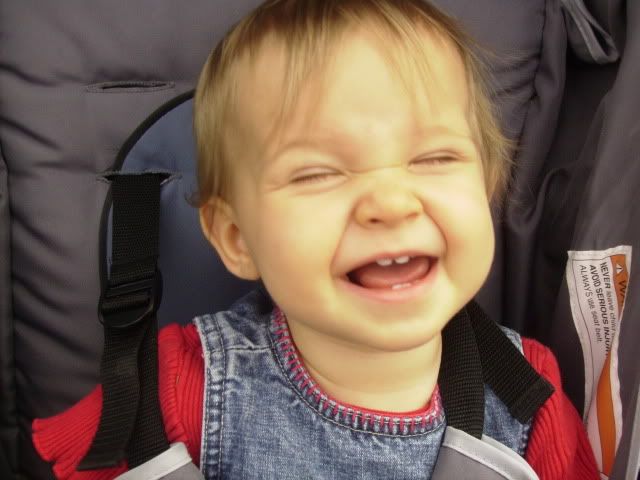 What could be better??