Just over two weeks ago, our stake had a little bit of a "shake-up". Essentially, they (whoever "they" consists of) took four wards in our area and made five. As part of the shake-up, we were put into a never-before-created ward, received a new Bishop, a new Relief Society President, some new ward clerks, and (and this is the entire reason I'm even mentioning this), a new Young Men's President.

Yup my dearies, Enrique is no longer the Young Men's President in our ward. To quote something I heard Uncle Lee say (years before he was my Uncle Lee), I have mixed feelings about this.

I vacillate between ecstasy and elation.

No, that's too strong. The fact is, I have loved getting to know the boys in our ward. I have loved seeing Eric interact with them. I have loved watching them grow from goofy semi-clueless kids to respectable responsible potential missionaries (with just enough goofiness retained for added adorability). I have loved the zany messages that have been left on our answering machine from boys and other leaders alike. Most of all though, I have loved watching my Eric grow and become more confident through this opportunity that he was given.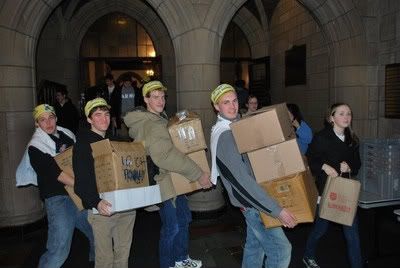 It hasn't all been love and roses though. Quite frequently, Eric's presence was required at more meetings than I thought strictly necessary. Far more often than I would like to admit, I would find myself murmuring about that, as well as some other aspects of the situation that I didn't particularly enjoy.
That was kind of a surprise to me. I mean, I never planned on being a murmuring wife you know? I planned on being a supportive-you-do-what-the-Lord-asks-of-you-Honey-and-I'm-behind-you-all-the-way wife.
Funny that. I guess Eric wasn't the only one who had opportunities to grow.
Anyway, the "Eric is Young Men's President" chapter is over now. It was a good chapter. It was a chapter of learning and trying and struggling and laughing. It was a chapter that yielded us the best pizza crust recipe we've found so far
(note to the Packers: yours is a close second, really)
. It was a chapter of giving broad obnoxious smiles, and getting shy embarrassed smiles back in return.* It was a chapter of growth.
All murmuring aside, It was a good chapter.
I hope we get more like it.
(Just--maybe not immediately. You know?)
*Actually, that part of the chapter is probably not over yet. At least I hope not.