This could be turn out to be kind of a long story if I'm not careful. So, I'm going to try to be careful. Just lookin' out for you all out there.
So, as you will remember (from reading
this post
), I am a big fan of the singer/songwriter Christine Lavin. What I did not tell you in the post referenced above is that in addition to really enjoying her songs, I've also learned how to play a few of them on the guitar, and I've had some really fun experiences singing them at parties, family reunions, informal gatherings,
Summerfest
, etc.
What I also did not tell you (is that grammar even close to being correct?) is that last April,
Jacob
(my brother) and I took
this song
, entitled
"Good Thing He Can't Read My Mind"
, and changed the lyrics about opera, skiing, and sushi to lyrics about comic books, dogs, and kim chee. I then sang the tweaked version to Eric and all our guests at our wedding reception. (This was
only made possible because
Michelle
was willing and able to create a piano accompaniment for the song using only a CD recording and my transcribed guitar chords.
That
is why she is listed on my blogroll as "accompanist extraordinaire".)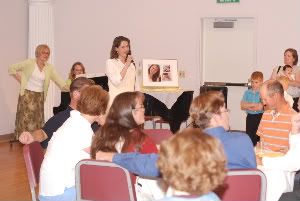 So, now that you have that background, we move on to the present happiness.
Yesterday, my mother was elected to be one of the Vice-Presidents for the Utah State School Board Association. That's kind of a big deal, and I'm proud of her. As part of her campaigning, she asked me (several months ago) if I would be willing to sing yet another version of "Good Thing . . . " at the state convention for her. We got to work (again including Jacob) and came up with a version that spoke about some of the things that school board members do that they don't particularly enjoy, (attending legislative meetings, attending public hearings, campaigning for office, meeting with angry parents, etc., etc.) but are willing to do because of their love for the children in the state.
I sang the song at the convention yesterday morning, and by the (completely biased) account of my mom, it was a big hit. People came up to her in throngs, asking for the words to that witty song, and pressing her for information about that darling, talented, treasure-of-a-girl who sang it. Or, maybe they were actually more interested in the song. I'll let you can decide.
By the time all this happened I was back home, ninety minutes away. Mom called me, and arranged for me to e-mail the lyrics to her, which she will copy today, and presumably distribute to as many of the 300+ school board members and superintendents who want them.
And now we get to the heights of happiness . . .
As I was preparing the lyric sheet to be sent, I decided to go to the Christine Lavin web site and send an e-mail from there, just letting Christine know how much fun I'd been having with her song, and thanking her. So I did. I did that around 6:00 yesterday evening, and then Eric and I left to attend a birthday celebration for one of our friends (which turned out to be great fun, if you're interested).
When we returned, around 10:00 or so, I was checking the e-mail, and what should I find, but a personal response from my quirky singing guru, Christine Lavin! Yippee!! As it turns out, one of her grandmothers was named Charlotte, she herself has changed the lyrics of that song a few times, and she "LOVES it and is thrilled" that I am tweaking and singing her songs. How cool is that?
Now, as you will recall from
this post
, I am no stranger to fame, and this is
certainly
not my first experience hob-nobbing with a celebrity. But, I have to admit, it very well may be my favorite so far. I'm totally, embarrassingly, even recklessly starstruck at the moment.
(cheesey, I know)
(I just couldn't resist)